1-day-old puppies survive Huntsville house fire
Updated: Jul. 11, 2018 at 6:38 PM CDT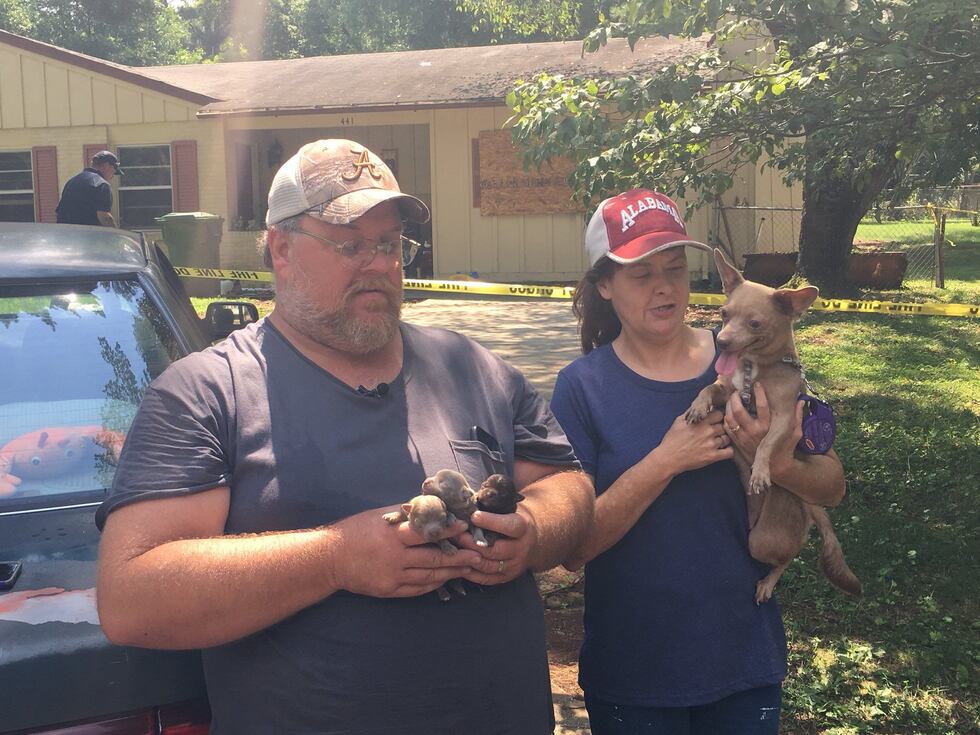 HUNTSVILLE, AL (WAFF) - A Huntsville family clings to their surviving four-legged family members after a fire gutted their home.
"I can't believe it happened," said Lisa Rounds.
Lisa and Allen Rounds got the call no one ever wants to get. Their home off North Edgemont Circle was destroyed by a fire Friday afternoon, killing five of their dogs.
READ MORE
"What's salvageable we are going to take out in storage right now and try and clean it. If it's not cleanable then we will just have to throw it away," said Allen Rounds.
Remarkably, three newborn pups survived in a room that was mostly untouched by the flames. The three fur babies were just a day old. Their mom Coco protected them until they were safe.
Each of them has a fitting name given by first responders from HEMSI: Flame, Blaze and Ash.
"Flame starts a blaze then afterwards there is ash," Lisa explained.
Another amazing find among the ashes was a cross.
"It didn't burn the cross but it burned a cross in the wall," Allen added.
As they miss their four-legged family members they're thankful to God for the survivors.
The newborns survived because they were separated from the other dogs.
"It had to of been God sent to save the puppies and the momma. That's all there is to it," Allen explained.
The family had originally planned to give the puppies up for adoption but after they lost their other animals they are keeping them.
Red Cross has put up the family in a hotel for a few days.
Unfortunately, they've had to deal with looters stealing their patio furniture and scouring through their destroyed home.
"I don't know why people would go out and try or take people's stuff when the family has lost everything," Lisa cried. "I don't know why someone would want to but I hope that they would find it in their heart that they've done the wrong thing and would return stuff."
The fire was ruled accidental.
Amber Rounds has set up a donation fund to help the Rounds at the local Redstone Federal Credit Union under the name "Allen Rounds Donation Fund" if you would like to help the family out.
Copyright 2018 WAFF. All rights reserved.