Huntsville family says AT&T destroyed their yard
Updated: Jun. 27, 2018 at 8:24 PM CDT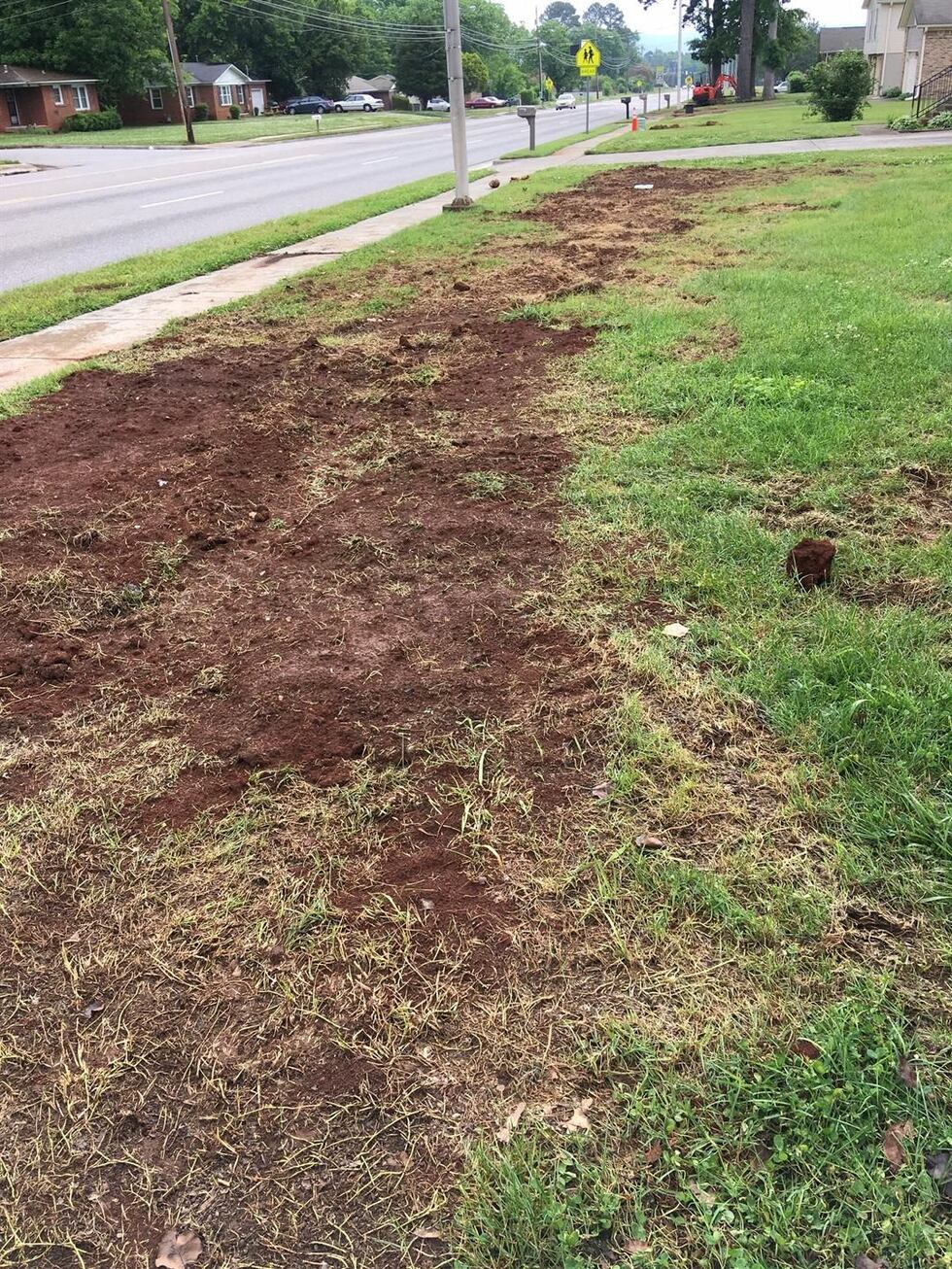 HUNTSVILLE, AL (WAFF) - Members from one Huntsville family say they came home from work one day to find their front yard destroyed. It's a problem they don't want another family to have to go through.
"You can see where the worst part is and this is where they ran the cable at right down through here," said Peggy and Joe Brazelton.
They said they came home one day to half of their front yard dug up.
"We never got a notice just saying, 'We are going to be doing work out here,' or 'Can we come to on your property and do this or anything,'" Peggy explained.
Peggy said after talking with neighbors they found out AT&T was responsible for the mess.
"He said they leveled it out and put the seed in, but I'm not happy at all with this," Peggy added.
The contractor tried to repair it, but the grass is different than what was there originally and there are still random spots of dirt.
Peggy has put up a sign letting her neighbors know who did their yard work.
"I know people are wondering why we have this nice garden in our front yard because it doesn't normally look like that," she said.
She said she doesn't know why they chose her house on Mastin Lake Road in Huntsville and why they didn't let her know before they started digging.
"It's just a mess," Peggy said.
After our calls to AT&T corporate they said they are going to fix the problem immediately. Here is the statement from Lance Skelly, director of corporate communications for AT&T:
Thank you again for bringing this matter to our attention, and for giving us an opportunity to look into and set the matter straight! As we work to upgrade our network in the Huntsville area, our goal is to minimize the effect on residents as much as possible. Unfortunately, one of our contractors hit a water line in the right of way that was improperly marked and the line had to be excavated by the utility company for repairs. We continue to work with the customer to repair her yard.
The Brazeltons don't want this to happen to another homeowner. Their advice is to not let something like this go and immediately call corporate.
"Take action, like I did," Peggy said. "Start making phone calls. They need to level the yard back out and put some suitable grass."
Copyright 2018 WAFF. All rights reserved.