Scottsboro High gets temporary victory tree following storms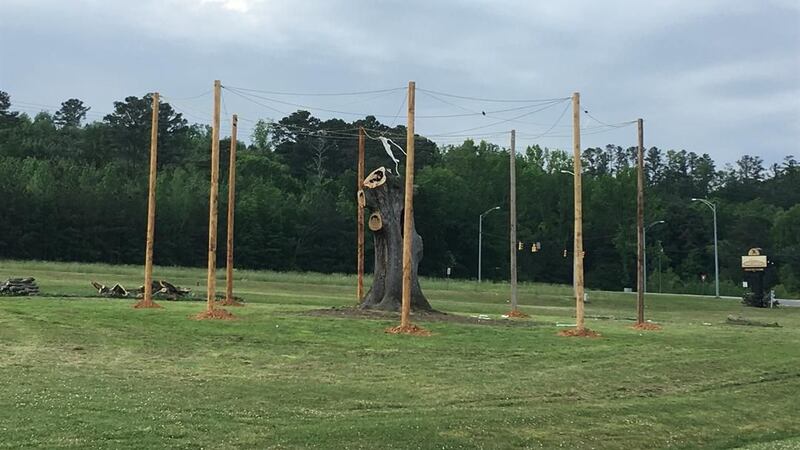 Updated: May. 19, 2018 at 3:43 PM CDT
SCOTTSBORO, AL (WAFF) - Students at Scottsboro High School lost their victory tree after April storms damaged it. However, the tradition of rolling the tree will live on.
The Scottsboro Electric Power Board volunteered their time to install temporary poles with chains for the students to roll, until a permanent replacement plan is finalized.
"As you're coming down the road, you know, that is Scottsboro High School. That's our symbol. You know that's us. Um. The poles that we have up right now, those are really temporary. They're kind of crazy looking, but it's going to keep up the tradition." said senior Emily Atkins.
"When I was a junior, I use to joke about rolling the tree. Being like, oh let's go roll it, not the seniors, who is better than the seniors?" said senior Adriann Dobbins. "But, when that senior day came, I was so excited. I moved here sophomore year, I thought it was just a dumb tradition. But the day came and I was so excited to roll the tree. And it's devastating that the tree did get torn down. But there is a light of hope with the poles that came in.
School administrators say they are glad the kids have an opportunity to continue rolling the new temporary structure.
"Now the seniors that come up will be able to roll the tree. And they'll have their own victory. And it will be fantastic for them and I'm very excited for them." said Dobbins.
Scottsboro's track team is currently participating at a state tournament in Gulf Shores. They hope to return home with a state title and will be ready to roll if they win.
Copyright 2018 WAFF. All rights reserved.