Scottsboro business pledges $5K to local schools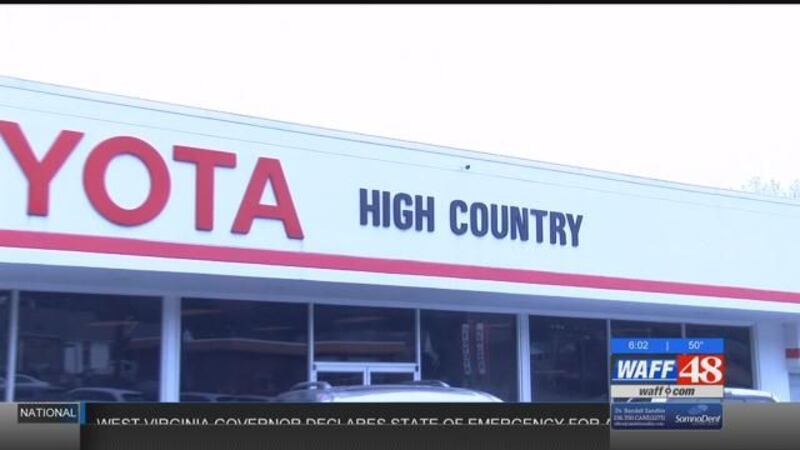 Updated: Feb. 17, 2018 at 9:44 PM CST
SCOTTSBORO, AL (WAFF) - A Scottsboro business is pledging $5,000 to local schools and challenging other businesses to get involved.
Alan Cox and his team at High Country Toyota all have ties to the school system in one way or another.
They say people often talk about change, but rarely do anything about it. That's why it's so important that they do this now.

"You never know what kind of affect you will have on people until you actually try," Cox said.
Cox says a passion for education has lived in his heart for years. With what happened to many kids down in Florida this week, he now fears it could happen to his two children or someone he knows.
"Everybody in one way or another can relate to issues going on in people's lives. While we're healthy and can all do something about it - we should just do something about it," Cox added.
That's exactly what he's doing. Putting his money where his mouth is by gathering his team together to pump more money into the schools. Cox says with that money they can find new ways to better protect students.
"There's no way we can completely protect our children. But I can tell you this, every little thing we do monetarily can help them do that," Cox says.
This is just the beginning for the car salesman.
He hopes his effort drives in a force that can really produce some change.
I want to be the first in a domino effect that is tremendous for this area...and other areas too," Cox told WAFF.
There is no deadline to get involved and no donation too small. He's just getting started to rev up money for local schools.
Cox says you can match his donation directly to the school system or bring them by his shop on South Broad Street in Scottsboro and he'll make sure to get it to them.
Copyright 2018 WAFF. All rights reserved.