Kerryon Johnson will enter NFL Draft, skip senior season at Auburn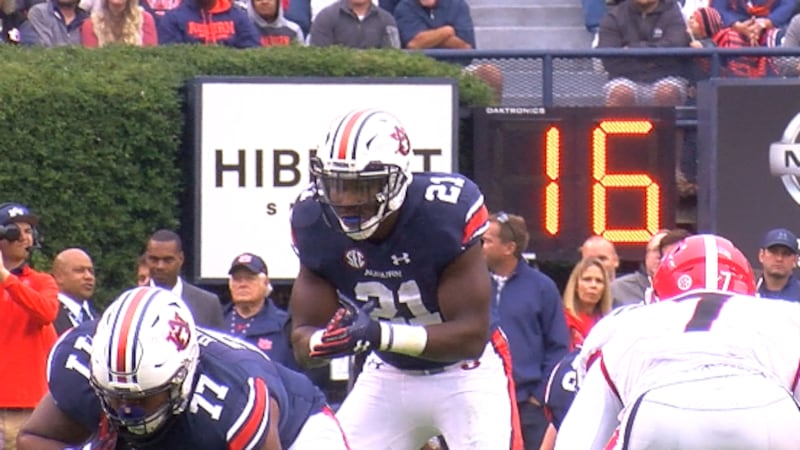 Updated: Jan. 2, 2018 at 9:39 PM CST
(WAFF) - Auburn running back, and former Madison Academy standout, Kerryon Johnson will not return for his senior season.
Johnson announced Tuesday afternoon on Twitter that he plans on entering the upcoming NFL Draft.
His tweet included a quote that stated: "There aren't enough words to express how grateful I am of the opportunity Auburn University has given me. This is truly an amazing school with an amazing fan base. With that being said... I have decided to enter the NFL Draft. Thank you all for the endless support that has not always been deserved. I love Auburn and the Auburn Family. War Eagle!"
Johnson racked up nearly 2,500 yards in his three years with the Tigers. His performance on the field helped Auburn to major wins against Georgia and Alabama in the 2017 regular season.
"I would like to thank KJ for all he has done for our program over the last three years. Kerryon has made this team better both on and off the field with his great character, competitiveness and leadership. He will be very successful at the next level and more importantly in life. We wish KJ nothing but the best," Auburn coach Gus Malzahn said in a news release.
Kerryon was highly recruited out of high school and ranked as the No. 1 prospect in Alabama by a number of sports outlets. He was awarded the title of "2015 Alabama Mr. Football" after gaining 1,659 yards and 25 touchdowns as a senior at Madison Academy.
Johnson will become the second son in his family to go to the pros. His brother, Kerron, plays professional basketball in Europe.
Copyright 2018 WAFF. All rights reserved.