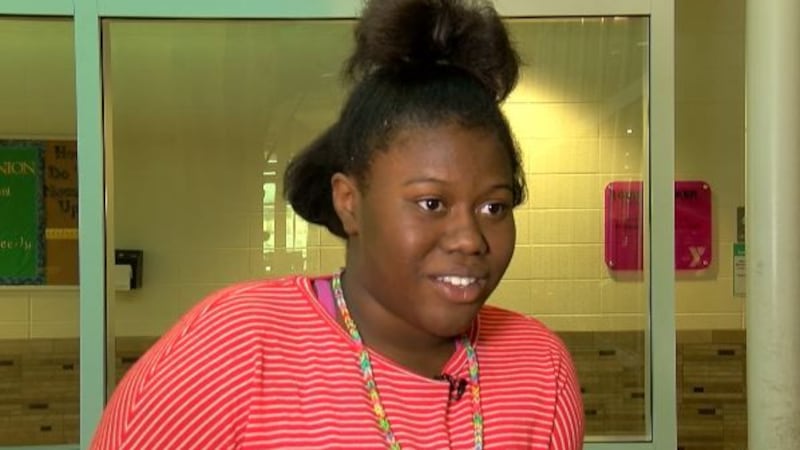 Published: Mar. 1, 2017 at 10:42 PM CST
|
Updated: Mar. 2, 2017 at 3:41 PM CST
(WAFF) - 13-year-old Jalela lives with her mother and two older sisters. She is in middle school and says her grades are improving after a difficult transition. She says she doesn't have too much difficulty in any of her classes and excels in history.
But Jalela has the soul of  an artist.
"We did French letters last week, and then we made a sugarscape last week for our family members who have died. And I remember one time we painted a face. It creeped me out a little bit," she said.
But Jalela plans to become an engineer when she grows up. She likes reading, skating, going out to eat and watching movies among other hobbies.
"I like playing videos and watch funny cat videos," she said.
Jalela's mother is encouraging her to become more active and involved in sports, in particular, basketball.
"My mother wants me to be a basketball player. because I go over to my cousin's house and that is all I do is play basketball games," Jalela said.
And it was her mother's idea to put Jalela in the BBBS program because she needs positive influence in her life.
"I want to learn from her how was her college years. Did she fully graduate. What does she want to be when she gets older and older? And what are your favorite things to do?" she said.
And she hopes she and her Big Sister will develop a close bond.
"I want to really get to know her, like we can be close, close friends and sisters at the same time," Jalela said.
Learn more about Big Brothers Big Sisters of North Alabama at 256-880-2123.
Copyright 2017 WAFF. All rights reserved.