New lottery bill introduced in AL House: former lawmaker doubts the issue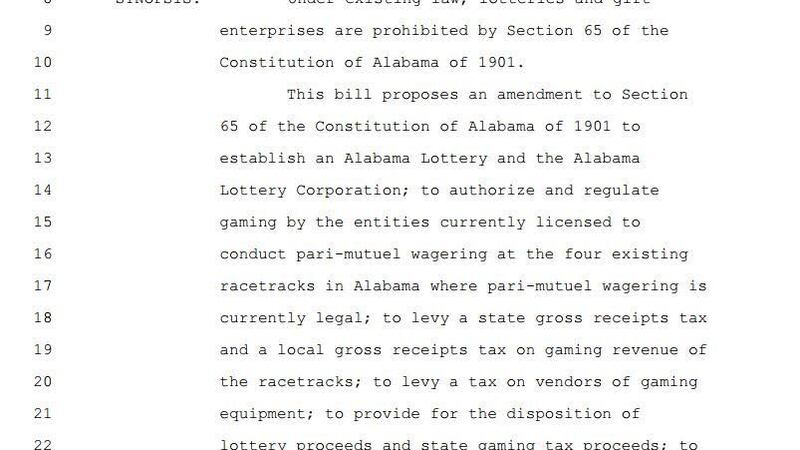 Updated: Feb. 16, 2017 at 7:30 PM CST
(WAFF) - A new lottery bill is now floating around the Alabama House.
HB 223 is the second introduced by state Democrats, but both bills are distinctly different on where all the money raised by a state lottery would go.
HB 223, the latest lottery bill in front of legislators, calls for putting all of the raised revenue into a "lottery trust fund" and doesn't earmark it to a specific area. It's different from HB 10, another Democrat-sponsored lottery bill, which was introduced a few days ago. HB 10 would send the money earned from the lottery into a fund for scholarships for students to attend public two- or four-year colleges in Alabama.
Gov. Robert Bentley called a special session last year to address the lottery and wanted the money to go towards paying Medicaid. It died in the legislature.
"I don't even think the Republicans will introduce one this time," said former Alabama state legislator Tom Butler.
Butler served in the Alabama House and Senate for nearly three decades. According to him, lottery legislation and several other bills will struggle to get votes this session. The reason why may come as a surprise. Butler said it's not because of the public interest, but because of the window to raise money for the next election.
"In June of 2017, the window opens. It'll close in June of 2018. I've had at least two legislators say nothing is going to happen this session. I don't think you'll see a gas tax, I don't think you'll see the governor's prison bond issue pass, I don't think you'll see a lottery bill," said Butler.
Butler said the debate over a lottery goes back more than 30 years and isn't sure when it'll have another shot of passing through the Alabama legislature.
Copyright 2017 WAFF. All rights reserved.