Huntsville Animal Services opens new 'Cat World'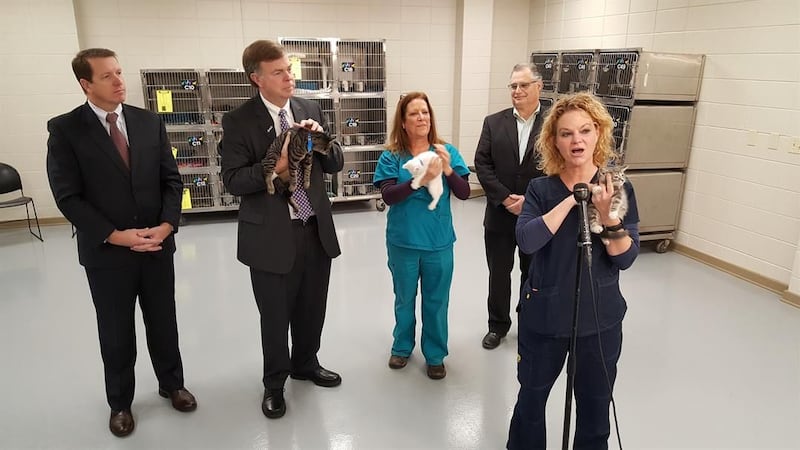 Updated: Dec. 12, 2016 at 1:44 PM CST
HUNTSVILLE, AL (WAFF) - Cats at the Huntsville Animal Services will have a new place to call home while they are waiting to be adopted.
Animal Services was awarded a $50,000 grant from the Petco Foundation to support the new "Cat World."
"The City has committed to making significant improvements to our Shelter and in our programs for fosters, adoptions, and spay and neuter," said Mayor Tommy Battle. "The $50,000 gift from Petco helps us further our mission to save treatable and adoptable pets. We are grateful to Petco for their generous support."
The total cost of "Cat World" is about $250,000 and features the most advanced ventilation system and can accommodate up to 60 cats and kittens.
There are plans to include two enclosed visitation/play rooms for cats and kittens to exercise and spend time with adopters.
The grant from the Petco Foundation will be used to add larger condos for the cats and kittens.
"Cats are solitary creatures and like having all of their resources in their own little space. They don't like to be threatened by anything, prefer not to hear barking dogs and to be with their own kind," said Animal Services director Karen Sheppard, "Cats are also particularly anxious about smells and the new ventilation system will help keep our four legged cats and our two-legged adopters happy."
The shelter's goal is to have animals vetted, treated and adopted within a week. That will depend on the community's willingness to be a part of the process by being a responsible owner and by adopting.
Copyright 2016 WAFF. All rights reserved.