Kim's Kids: Reporter Kaitlin finds a lot in common with mentee Justice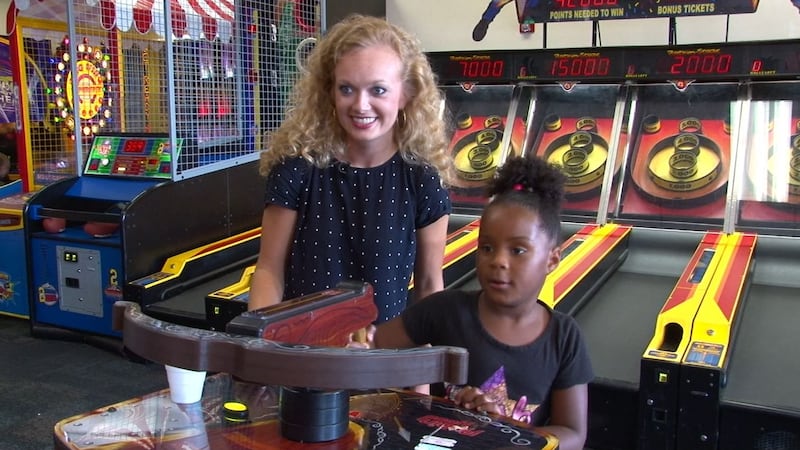 Published: Aug. 3, 2016 at 11:13 PM CDT
|
Updated: Aug. 4, 2016 at 7:14 PM CDT
HUNTSVILLE, AL (WAFF) - You may remember 5-year-old Justice when we introduced you to her back in April.  She is an only child with a large and loving extended family
Justice is a sweet girl with an infectious smile whose only wish was for a Big Sister.
Fast forward five months and Justice is loving life with her Big Sister Kaitlin.
"When I got to meet her, we were very, very excited. It was an instant connection. We're both really, really hyper and like to talk a lot, so it was the perfect match," said Kaitlin.
Kaitlin may look familiar to you. She is a reporter for WAFF 48 and for some time has wanted to get involved as a mentor. When she saw Justice, she knew she'd met her match!
"I just thought it would be so much fun to get to spend time, one on one, with a kid. And I wanted to learn a little from them as well and I have ended up learning much more than I can teach Justice," said Kaitlin.
The two love to eat and one of their favorite outings is to go to get ice cream. They like going to the park and practicing their Spanish.
Kaitlin recently became engaged and Justice is having fun hearing all about her wedding plans.  And she made quite an impression on her fiance.
"Thank you for marrying her. And it's nice to meet you," that what Justice said she told Kaitlin's fiance Caleb.
And Justice said she plans to be front and center when Kaitlin walks down the aisle. But until then, the two will continue to enjoy the simple pleasures of being together, fast friends to the end.
Copyright 2016 WAFF. All rights reserved.