Judge denies motion for serial rapist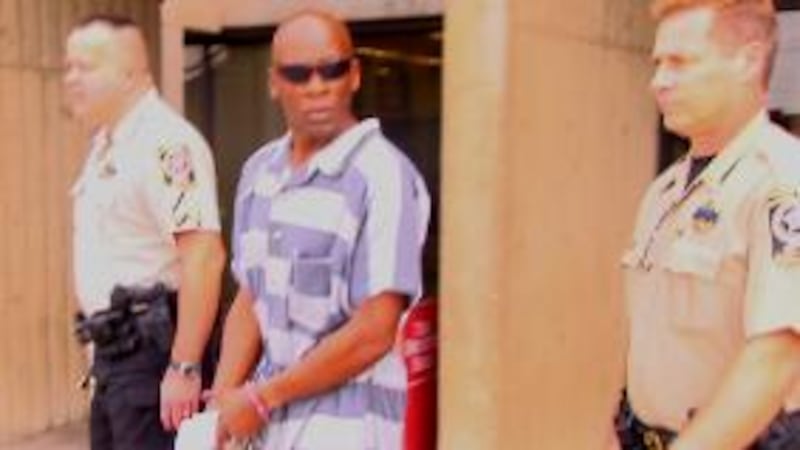 Published: Jul. 29, 2016 at 4:44 PM CDT
|
Updated: Jul. 29, 2016 at 5:33 PM CDT
MORGAN COUNTY, AL (WAFF) - Attorneys for a serial rapist who assaulted women in Decatur thirty years ago made a motion that would lead to a reduced sentence on Friday morning. Within hours, the judge rejected the request.
David Lee Garth's attorneys submitted his case for youthful offender status to Morgan County Circuit Judge Steven Haddock. Haddock promptly denied the status.

In November of 2015, a Morgan County jury convicted David Lee Garth on three counts of First Degree Rape for a series of attacks at an apartment complex from November of 1985 through May of 1986.

 A Decatur Police Department task force assigned to the investigation arrested Garth for First Degree Burglary and one count of First Degree Rape in 1986, and he was convicted in 1987. Burglary is first degree if the perpetrator is armed, and Garth was armed with a handgun.

Investigators believed he was the rapist in several other cases, but with no DNA testing capabilities at the time of the crimes, they were unable to make the charges against Garth then. Authorities kept the forensic samples from the rape kits.

In 2012, as Garth served his sentence in a state prison, a cold case task force matched his DNA to three rapes of victims in the 1985-86 cases.
Once he was convicted in November of 2015, Judge Haddock sentenced him 99 years in prison. He is serving 99 years for the previous conviction, and hat sentence ends in 2086. The sentencing for the more recent conviction is to begin once the previous sentence ends, effectively keeping Garth, who is 47-years-old, in prison for the remainder of his life.

Garth's attorneys argued that because he was 16 and 17-years-old when he committed the rapes and burglaries, he should have been allowed to request youthful offender status. If it had been granted, he would be subjected to no more than a maximum of three years imprisonment for each of the counts for which he is convicted
in 1986, Garth applied for youthful offender status for original charges, which was also denied.


Copyright 2016 WAFF. All rights reserved.