Massive Alabama crowd supports Donald Trump
Published: Feb. 28, 2016 at 5:02 PM CST
|
Updated: Mar. 27, 2016 at 4:02 PM CDT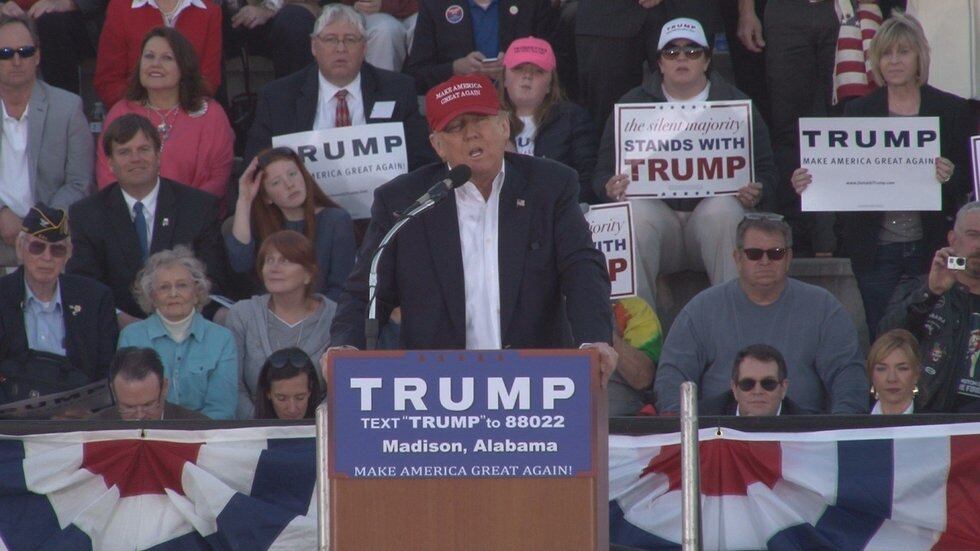 MADISON, AL (WAFF) - Lines of supporters ready to listen to presidential candidate Donald J. Trump formed early Sunday morning, quickly swelling within a matter of hours.
More than 30,000 Donald Trump supporters received tickets to Sunday afternoon's event. Although an official tally of attendees has yet to be announced, many swarmed into the city of Madison during his visit to the valley campaigning just two days before the Alabama primary.
Sunday's rally had originally been scheduled to be held at Black Hall Aerospace off Wall Triana Highway, however after meeting with city and public safety officials, campaign organizers decided to move the venue.
There were 100-plus members of law enforcement at Sunday's rally.
PHOTOS: Trump Rally in Madison
Trump tweeted shortly before landing that he had a "big surprise announcement" in store for the audience. Shortly after reaching the stage, Trump welcomed Senator Jeff Sessions to the microphone, who then officially announced his endorsement of the candidate.
"He is dedicated to leading this country in an effective way," Sessions said.
Trump's rally comes just under 24 hours after one held by Republican challenger Marco Rubio. Some Rubio supporters held signs reading 'Dump Trump,' and protesters seen just off-site from the Trump rally held signs with that and other anti-Trump slogans.
A warning broadcast on the public address system ahead of Trump's arrival anticipated anti-Trump protesters within the crowd, and encouraged supporters to signal the presence of protesters by shouting "Trump, Trump Trump!" to signal security.
Shortly after Sessions left the stage, Trump directly addressed someone in the crowd and told security to "Get him out of here.... It never fails."
At least two more protesters were led off by security, who apparently carried "Black Lives Matter" signs.
"All lives matter," Trump said as the crowd booed those being led out. "We have to love everybody."
As Trump settled into his prepared remarks, he took aim at his fellow Republican and Democratic contenders in the presidential race.
"Hillary [Clinton] shouldn't even be allowed to run," he said. "She broke the law."
Trump also reiterated his strong opinions on topics such as the proposed wall he wants to build between this country and Mexico, as well his desire to increase strength in libel laws against media who he says create "hit pieces."
He affirmed his desire to re-establish a stronger U.S. military, and said that priority one is "we take out ISIS," among a series of cheers.
Trump also promised the crowd that "we are going to get our jobs back."
"I believe he can build America up great again," said supporter Belinda Wilkerson.
Wilkerson works 40 hours a week, but the last few weeks have been difficult, she explained.
"I work hard, and I know I don't have a college education to earn what my daughter does," said Wilkerson.
Wilkerson works as a custodian only making $12 an hour and needs every penny she earns.
"I don't like giving my tax money to people that can be working," Wilkerson explained.
Now, she's working toward a better life and turning to this man to help.
Sunday, Trump's focus was on immigration, jobs, education and much more.
"We take out ISIS number one, we take out ISIS," said Trump.
The rallies are an eleventh-hour push to garner favor with voters ahead of Super Tuesday, when Alabama and a dozen other states hold their primary elections.
"The biggest thing... you've gotta go out and vote Tuesday," Trump stressed. "I want a resounding vote. You've gotta knock the hell out of everybody."
Trump finished his 1.5-hour long speech encouraging folks to vote.
"We are going to protect our country militarily, we're going to protect our country," said Trump.
And for Wilkerson, it's exactly what she wanted to hear.
"I believe in helping other countries, but we need to start at home," said Wilkerson.
Copyright 2016 WAFF. All rights reserved.