48 Investigates: Alabama the worst state to lose a limb while on the job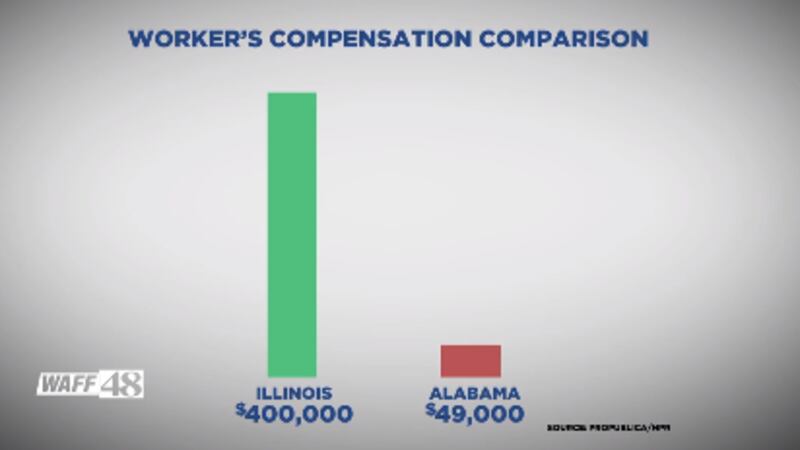 Published: Feb. 18, 2016 at 4:56 PM CST
|
Updated: Feb. 19, 2016 at 10:53 AM CST
(WAFF) - Alabama may just be the worst state in America to lose a limb on the job when it comes to worker's compensation.
Everything down to our toes has a price but workers in our state have a much different experience than those in other states in claiming their benefits.
Workers compensation is not a foreign concept. But here in Alabama, it's an especially touchy subject.
While employers are familiar with state policies, the average worker does not know what to expect until something horrible happens.
What is fair finance-wise when someone loses a limb on the job? That question is currently up for debate.
Have you ever stopped to ask yourself, how much is your arm or leg worth if you lost it on the job?
It is a question lawmakers in the state of Alabama have already answered for you.
It is buried in our worker's compensation law, a law relatively untouched for decades.
With no federal control over each states minimum payments, it is totally up to states to determine their own benefits.
Almost every state breaks down their benefits, limb by limb on what they say each is worth.
Alabama comes in dead last compared to all 50 states for payments when it comes to lost limbs.
The loss of an arm in Alabama is worth up to $48,840. In Illinois, that same arm is worth $439,858.
For a leg, Alabama comes in at $44,000 but if you lost the leg just over the state line in Tennessee, we are talking $206,064 or Georgia, $118,125.
The only time Alabama does not fall to the bottom of the list is compensation for fingers and toes.
"The base amounts that scheduled injuries are worth, it's just time to adjust that, it's 2016. We're operating off of amounts that haven't been adjusted in the last 25 - 30 years," said attorney Brian Oakes.
To do that would take bringing all interests to the table. Insurance companies, the business community and the medical community but who speaks for the worker?
"Most of the time it's trial lawyers who try to advance worker interests whether that be in labor disputes, health issues, environmental issues. Alabama is slow to change on almost all issues," added Oakes.
Especially with worker's comp, which hasn't changed its "permanent partial disability" payments for lost limbs that leave someone only partially disabled since 1985 at $220 per week. There is no consideration of inflation and many families end up with wages way below the poverty line.
However, Senate Bill 122 is intended to be the first step in working to change that with an amendment to the wage cap.
District 3 Senator Arthur Orr is one of six lawmakers sponsoring the bill.
"If I go through four years or longer and I have no problems with my back but one day I'm out pulling stumps in my backyard and I wrench my back again, the presumption is well that's not workers comp, that's a whole new injury," said Orr.
Orr believes these changes will bring Alabama more in line with other state's laws like Florida to remain competitive to businesses.
"I'm sorry I think that's a fallacy, I mean clearly every other state in the union out pays us exponentially yet they have better factories and places of employment than we do," said Oakes.
With Senate Bill 122, Orr hopes he can perform a balancing act, giving a little on one side bringing the conversation back up to raise the wage cap from $220 per week.
"There have been bills filed that have gone nowhere in the last two or three sessions. I am just trying to do something that is very small and slight, again, I think it's going to be an uphill climb on the prospects because both sides seem very much entrenched," added Orr.
The potential give and take behind Senate Bill 122 comes from employers pushing for putting in a retirement age cap on benefits.
Right now parts of our law allows people to claim them for a lifetime and to put a time limit on those who do not seek treatment within a four-year period.
The argument is if those things were to happen then the conversation of raising the wage cap on injuries can start again.
But for now, all of this is just talk dominated by special interests.
For change to happen, the public has to be aware and passionate enough to get representatives to make changes that is both fair to the employer and the employee.
We will continue to follow Senate Bill 122 through this legislative session and update.
Copyright 2016 WAFF. All rights reserved.