Same-sex marriage supporters rally after Chief Justice's order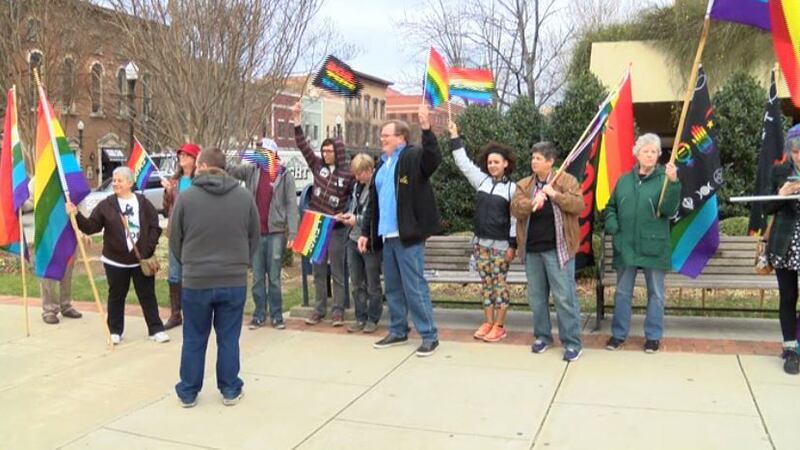 Published: Jan. 6, 2016 at 9:53 PM CST
|
Updated: Feb. 3, 2016 at 9:53 PM CST
HUNTSVILLE, AL (WAFF) - Armed with rainbow flags, same-sex marriage supporters gathered outside the Madison County Courthouse on Wednesday, hours after Alabama Chief Justice Roy Moore asked state probate judges to cease issuing marriage licenses to same-sex couples.
The order states that "until further decision by the Alabama Supreme Court, the existing orders of the Alabama Supreme Court that Alabama probate judges have a ministerial duty not to issue any marriage license contrary to the Alabama Sanctity of Marriage Amendment or the Alabama Marriage Protection Act remain in full force and effect," according to the Alabama Administrative Office of Courts.
In Madison County, same-sex couples were able to submit applications but not receive licenses - while straight couples could - prompting the protest.
Supporters of marriage equality voiced their opinions loudly and succinctly.
"There's nothing to say to it - he's crazy," said Cassidy Lamb, who said she was in disbelief that the issue came up months after the U.S. Supreme Court legalized same-sex marriage last summer.
"This is long settled. I'm happy to see all these people, but I did not think I'd have to be back down here yelling and shouting and waving a flag about this, not even a year since we were marrying people in that park. It's absurd," said Lamb.
At least one same-sex couple attempted to obtain a license this afternoon. Their information was taken by the Madison County Probate Office, but they were not issued a license, pending a review of Moore's order.
Protesters say the decision is simple, and the issue already decided. That's why they want marriage licenses issued to all couples immediately.
"The law is the Supreme Court. They need to follow the Supreme Court's ruling," said Lamb.
Copyright 2016 WAFF. All rights reserved.