Lawrence Co. animal shelter director charged with 17 criminal counts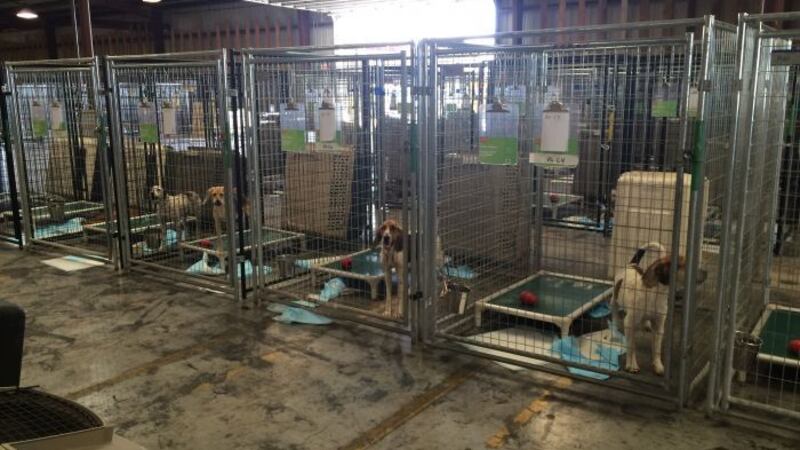 Published: Jul. 16, 2015 at 2:20 PM CDT
|
Updated: Aug. 13, 2015 at 2:22 PM CDT
LAWRENCE COUNTY, AL (WAFF) - Former Lawrence County animal shelter director Bobbie Taylor is charged with 17 misdemeanor counts related to alleged animal cruelty at the former shelter that was on her property.
Taylor turned herself in Thursday afternoon just before 4 p.m. and is free after posting a $17,000 bond. The charges, which are all misdemeanors, include 16 counts of cruelty to dogs and cats and one count of cruelty to animals.
Moulton police began the investigation on June 24th after a complaint was made by a former shelter volunteer. Police obtained a search warrant and the property became a crime scene for six days, beginning June 29th. The American Society for the Prevention of Cruelty to Animals joined the on-site investigation the next day, where they removed more than 300 animal. These animals were taken to a temporary rescue shelter where their care continues.
Moulton police officer Lyndon McWhorter said he and another officer visited the shelter four days before executing the search warrant and discovered dogs housed in small pens, with some pens holding several dogs fighting for food and space.
"We observed a number of animals that was malnourished. A number of animals in unkempt pens, dirt pens. It was really worse than I imagined it being," McWhorter said Thursday. "These animals can't defend themselves. They're in pens, fighting for space. These animals are malnourished. They need someone to defend them."
The ASPCA is working  to reunite owners with some of the animals. Friday at 6:00 p.m. is the last day for owners to check the shelter for a lost pet. It is at the Hillsboro Gin Company on Alabama Highway 20. You will need a good printed-out color photo of your pet.
READ MORE: Lawrence Co. animal shelter hot topic at commission meeting
On July 7, Taylor spoke out, saying she didn't fear criminal charges because she did nothing wrong.
During that interview, Taylor declined more media at the advice of her attorney, but did say she's ready to defend herself against the accusations. Taylor said the truth is on her side, and that truth would be revealed soon.
She did not elaborate, but she did talk more about her side of this, as investigators spent six days executing a search warrant at the shelter.
Taylor said then that she never abused or neglected animals, that sick dogs and cats found there were sick when she took them in, and that she had them treated by a veterinarian.
She also said her animal services contract with the county mandated she could not refuse any animals, which is why so many were there.
Copyright 2015 WAFF. All rights reserved.