The cost of unconstitutional laws
Published: May. 9, 2014 at 11:18 AM CDT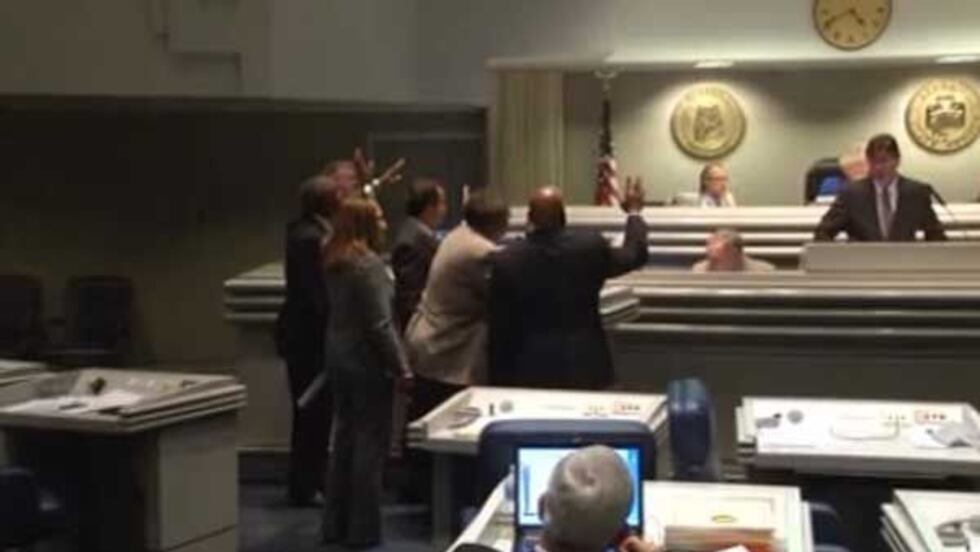 HUNTSVILLE, AL (WAFF) - The Alabama Attorney General's Office spends tens, and in some cases, hundreds of thousands of tax payer dollars every year to fight for Alabama laws the United States Federal Courts have ruled unconstitutional. From abortion to immigration, Alabama laws keep pushing the envelope and pushing up the price tag for tax payers.
On March 1, 2012, protestors gathered outside the 11th Circuit Court of Appeals in Atlanta. Inside, a three judge panel heard three hours of testimony from the Alabama Attorney General's Office and a pro-immigration group challenging the Alabama Immigration Law. Months later, the court ruled most of the law unconstitutional.
"The ultimate cost they had to pay out of pocket for attorneys fees and costs in that case because of the law was over $500,000," said Southern Poverty Law Center attorney Sam Brooke.
According Brooke, the "they" is the Alabama Attorney General's Office and that $500,000 came straight from tax payers' pockets.
"That is money coming out of the state budget," said Brooke. The attorney said he warned law makers.
"We went to the Alabama legislature when they were debating this law," said Brooke. "We told them it was clear this law would be unconstitutional and we told them specifically why."
The SPLC says the Alabama legislature continues to debate and pass unconstitutional legislation each session, costing tax payers more money when the laws are challenged in court.
"There was a bill that would require people on public assistance to be drug tested," said SPLC deputy legal director David Dinielli. "We already know there have been federal challenges out of state that have found those requirements to be unconstitutional."
"The same thing is clearly true with the abortion laws that they have passed in the last two sessions," said Brooke. "These are clearly intended by the legislators to be a direct court challenge to Supreme Court precedent. It is clear that they're going to lose those cases."
"[The SPLC] said we know how it's going to turn out. No we don't," said Alabama State Representative Mike Ball. "If I know how it's going turn out, I'm going to try to keep things constitutional."
Ball said he's aware of the tax payer dollars the state uses every year in litigation.
"Some things we stick our neck out on, and some things other states stick their neck out on," said Ball.
Ball said he doesn't believe the legislature is wasting tax payer money.
"We're asserting our rights as elected representatives of the people of Alabama and they're exerting their rights of citizens who have all these left leaning lawyers who want to challenge it," said Ball. "Whether we like it or not, it is a messy process, but it's the process that we have," said Ball.
According to the SPLC, that process costs tax payers because those funds tied up in litigation could go towards other things like roads or education.
"Governor Bentley says in his state of the state address that he would like to see just a two percent increase for those teachers," said Brooke. "And the legislators, including speaker Hubbard, says we don't have the money for that. We're not going to give the teachers any raise whatsoever, just like we haven't done for the past several years. Well, I can tell them where $500,000 could have come from."
The Alabama Attorney General's Office gave this response when contacted about the cost tax payers are on the hook for Federal Court battles.
"The attorney general's office handles challenges to the constitutionality of state laws in-house with salaried staff attorneys, and there is no breakdown for costs as this is handled as part of their regular duties. In the case of abortion litigation, some money will be paid for expert fees. In one of the immigration cases, the state was ordered to pay $350,000 in legal fees, and the matter of legal fees in another case is in litigation."
The attorney general's office has not released the specific numbers requested.
"There's lots of things that I wish we didn't have to spend money on," said Ball.
But Ball says he doesn't see the legislature backing down because the SPLC or any other group opposes laws they pass.
"They're fighting us because their values are different," said Ball.
SPLC lawyers say they'll continue that costly fight if the legislature keeps passing unconstitutional laws while ignoring other issues.
"We have problems in our schools; we have problems in our prisons. There is a lot of stuff that deserves attention and is just not getting it," said Dinielli.
The United States Federal Courts will hear Alabama's next controversial law in May. Alabama's Women's Health and Safety Act deals with admitting privileges for doctors and the possible closure of several abortion clinics. A trial date is set for May 19.
Copyright 2014 WAFF. All rights reserved.