Anchor & Reporter
Bell Co., TX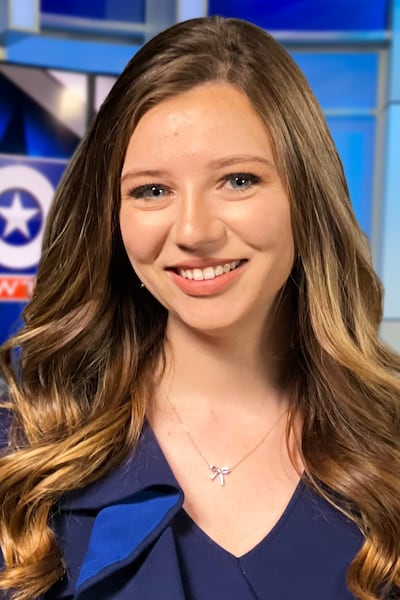 Megan took an 18+ hour leap moving to Texas from Ohio, where she worked as a reporter for Gray Television's station in Parkersburg, West Virginia - WTAP.
Megan wore many hats as a multi-media journalist at WTAP, reporting on various topics in news and sports while also anchoring and producing as needed.
She was part of breaking news team coverage of a historic fire in Wood County, West Virginia that won 1st place in the Ohio Associated Press Awards and 2nd in the Virginia's AP Awards.
Her three-part series on the fire's one year anniversary won 2nd place in the Ohio AP Awards the following year.
Megan also received 2nd place in the 2018 Virginia's AP Awards In-Depth category for her five-part series titled "Zeroing in on School Safety: Protecting Our Children".
In addition to hard news reporting, Megan worked in the sports department at WTAP as well, shooting NCAA Division I football games, down to high school tennis and everything in between. She was a host of its weekly Football Frenzy show, calling dozens of area high school football highlights and producing feature stories.
Megan grew up in Pittsburgh, PA and has a passion for sports. During the summer of 2017 she lived in Pittsburgh and worked as a social media producer for the AT&T Sports Network Pittsburgh Pirates broadcasts.
In April of 2017 she graduated from the E.W. Scripps School of Journalism at Ohio University with a minor in sports administration.
With four years of on-air reporting experience from Ohio, she participated in six different TV shows including WOUB's NewsWatch and Emmy winning football highlight show, Gridiron Glory.
Megan interned with Adidas at their headquarters in Germany during the summer of 2015 and interned with the Ohio University Athletic Department for 2 years. She has worked in radio with WXTQ/WATH in Athens, Ohio in their sports department.
Megan's fiancé Ryan also made the move from Ohio to Texas with their one-year-old German shepherd, Steel and cat, Jinx.
When she's not at work, Megan is probably playing with her pets or watching the Pittsburgh Steelers, Penguins, Pirates and Panthers or the Ohio Bobcats.