Decatur city leaders provide update on death investigation of Steve Perkins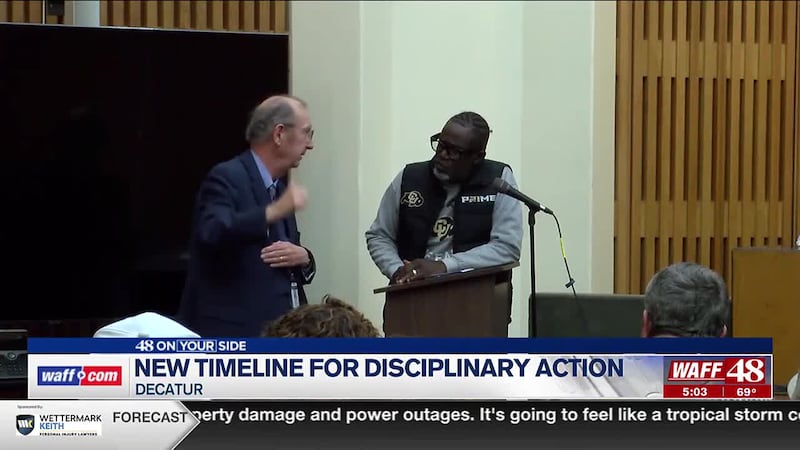 Published: Nov. 20, 2023 at 10:05 AM CST
|
Updated: Nov. 21, 2023 at 7:44 AM CST
DECATUR, Ala. (WAFF) - Decatur city leaders gave an update on the investigation into the deadly shooting involving Steve Perkins during Monday's city council meeting.
The city attorney is currently reviewing the Decatur Police Department's investigation. From there, the attorney will then give Mayor Tab Bowling an official write-up to review. The official write-up is expected to be handed over on Wednesday.
Mayor Bowling expects to have a disciplinary hearing tentatively scheduled on Dec. 4. Results of the hearing will be made available the week of Dec. 4, according to the city's attorney.
Decatur Police Chief Todd Pinion is also recommending the officers be punished for violating policies and procedures during the shooting death of Steve Perkins in September.
Officers were called to Perkins' home following a confrontation with a tow truck driver. Chief Pinion says when his officers arrived, they never ordered Perkins to drop his gun.
As the investigation continues, advocates for the Perkins family are growing tired. Many are urging Mayor Bowling and the Chief Pinion to resign.
City Council President Jacob Ladner said he thinks an outside perspective is necessary right now.
"When you have an issue that happens like this in your organization, in your city in this case, you've gotta bring in a third party that's outside of the day-to-day operations," Ladner said. "To [look] at policies, procedures, leadership, the culture of your organization or your department, in this case."
Mayor Bowling provided the following statement regarding the city's investigation into the officers who shot and killed Perkins:
On Friday, Decatur Police Chief Todd Pinion concluded the predetermination hearing into the death of Perkins. He determined policies were violated during the shooting death of Perkins and the findings were sent to the Legal Department and outside counsel to prepare the formal documents to move forward with the discipline process.
Click Here to Subscribe on YouTube: Watch the latest WAFF 48 news, sports & weather videos on our YouTube channel!
Copyright 2023 WAFF. All rights reserved.