48 FIRST ALERT WEATHER DAY Monday Evening Through Tuesday Morning
First Alert Weather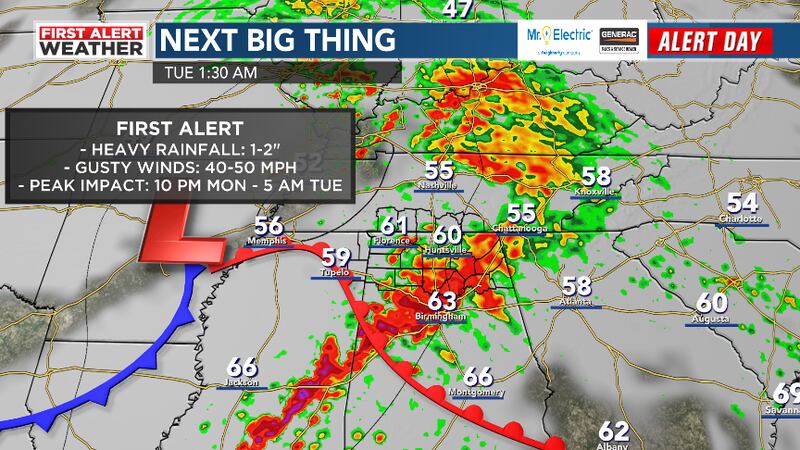 Published: Nov. 19, 2023 at 6:54 PM CST
After a cold start to the day, it's been a pleasant and sunny afternoon with high temperatures reaching the mid to upper 60s. Expect increasing cloud cover as we head into your evening hours, and this will keep temperatures warmer overnight. Morning lows on Monday will be ranging in the mid and upper 40s.
Monday will bring a mix of sun and clouds with a slight chance of showers early in the day. Afternoon highs will be climbing near 70 degrees with increasing humidity as our next weathermaker approaches the region. A 48 FIRST ALERT DAY is in effect overnight through Tuesday morning for the threat of heavy rain and gusty winds up to 50 mph. While the severe threat is low, a few isolated strong storms will be possible just before daybreak on Tuesday, so make sure you are prepared and staying weather alert! Rainfall totals could amount anywhere from one to two inches with higher amounts possible in localized areas. This will likely affect your holiday travel, so brace for several delays whether you're hitting the road or up in the skies.
Rain will clear out quickly by Wednesday and Thanksgiving Day with sunshine and much cooler air returning. Highs both days will be in the 50s with overnight lows falling back into the 30s. Temperatures will gradually start warming up into the low 60s by the end of your week and into your weekend. A few showers will be possible on Sunday with better chances for rain coming next week.
Click Here to Subscribe on YouTube: Watch the latest WAFF 48 news, sports & weather videos on our YouTube channel!
Copyright 2023 WAFF. All rights reserved.