Muscle Shoals Middle student, parents in custody after unloaded gun found in bag of candy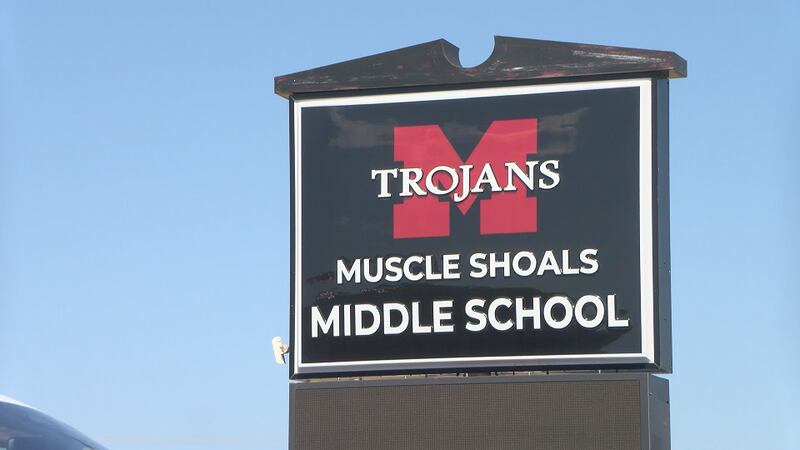 Published: Nov. 15, 2023 at 12:27 PM CST
|
Updated: Nov. 17, 2023 at 8:56 AM CST
MUSCLE SHOALS, Ala. (WAFF) - A Muscle Shoals Middle School student and the student's parents are in police custody after an SRO found an unloaded handgun in a bag of candy Wednesday morning.
Superintendent Dr. Chad Holden says administrators got a tip about the weapon this morning. The administrator and a school resource officer went to the classroom where the incident was reported and quickly found the weapon. Police Chief Clint Reck identified the parents of the student as Benjamin and Patricia Tennery, according to Shoals Insider. Police say they were charged with one misdemeanor count each of endangering the welfare of a child.
The unidentified student was questioned and handed over to the Muscle Shoals Police Department. They will be turned over to juvenile authorities.
A statement from Chief Clint Reck says that the investigation found that those adults knew the child was in possession of that firearm.
Superintendent Dr. Chad Holden issued a statement, reading in part: "As always, we appreciate the support and cooperation from the police department and the swift action taken by the school administration and SRO in responding to this concern. We also appreciate the student who quickly notified school staff that a weapon was discovered on campus. As we always say, safety is our top priority!"
Click Here to Subscribe on YouTube: Watch the latest WAFF 48 news, sports & weather videos on our YouTube channel!
Copyright 2023 WAFF. All rights reserved.