Partly cloudy and warmer 70s for Thursday
First Alert Forecast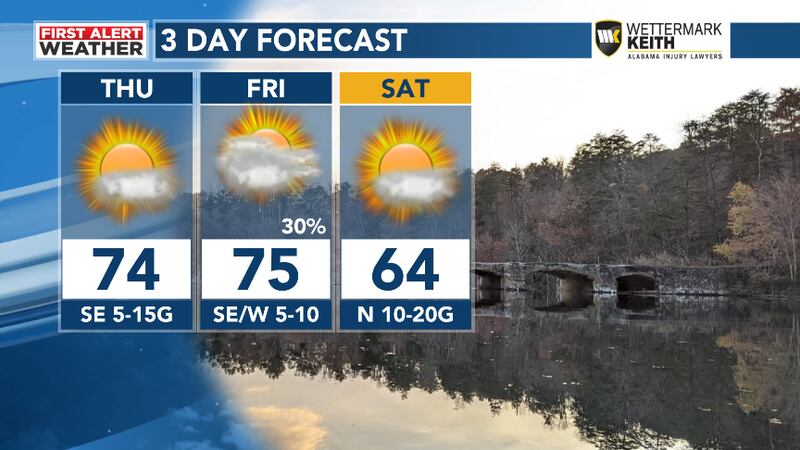 Published: Nov. 16, 2023 at 4:11 AM CST
HUNTSVILLE, Ala. (WAFF) - Good Thursday morning. We have mostly cloudy skies and even a few light sprinkles off to our south to start the day, the cloud cover overnight has kept our temperatures mild in the middle 50s to lower 60s.
Cloud cover will thin out through the morning into the afternoon with high temperatures climbing back above average in the low to middle 70s. Clouds will again begin to build in for the late afternoon and evening with a breezy southeasterly wind. Mostly cloudy skies are in the forecast overnight with lows staying mild in the middle 50s. Friday will be mainly cloudy to overcast with temps warming into the low to middle 70s.
A cold front will move through the Tennessee Valley Friday afternoon and will bring some very light scattered rain showers across the area. Behind the cold front, drier air will filter in for Saturday with clearing skies and breezy northwesterly winds. Highs on Saturday will be in the upper 50s to middle 60s. Sunday will be mostly cloudy and seasonal with high temps in the low to middle 60s.
We have the First Alert out for Monday and Tuesday of Thanksgiving week for the potential of widespread heavy rainfall and even a chance at some thunderstorms. This could be our first beneficial rainfall in months and will have an impact on Thanksgiving week travel, check back for the latest.
Click Here to Subscribe on YouTube: Watch the latest WAFF 48 news, sports & weather videos on our YouTube channel!
Copyright 2023 WAFF. All rights reserved.