Scattered sprinkles, cloudy and cool Wednesday
First Alert Forecast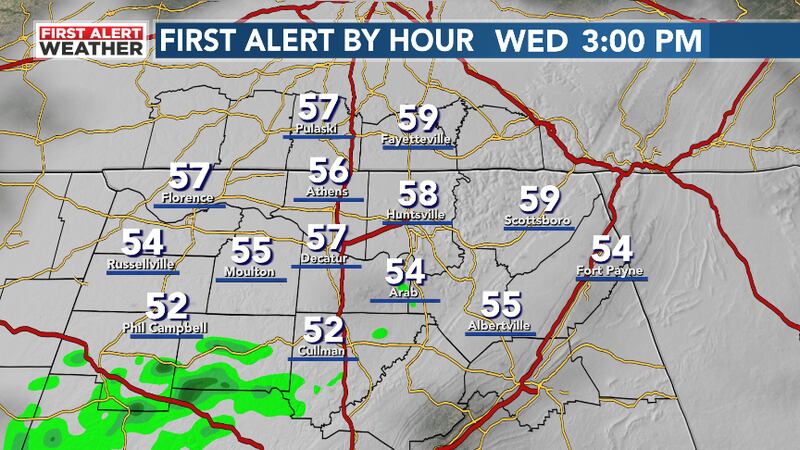 Published: Nov. 15, 2023 at 4:07 AM CST
HUNTSVILLE, Ala. (WAFF) - Good Wednesday morning. Cloudy skies and light sprinkles will be expected for the early morning hours with temperatures starting off on a cool note in the low to middle 50s.
Periodic light rain showers will be expected off and on through the day with locations south of the Tennessee River likely receiving only a few hundredths of an inch of rainfall. Highs today will stay cool in the middle to upper 50s thanks to mainly cloudy skies and some rain cooled air. Cloud cover will remain over the Tennessee Valley tonight into tomorrow with a few stray showers, lows will be in the lower 50s.
Thursday will bring clearing skies and some sunshine, high temps will be warmer as a result topping out near 70 degrees. More clouds will push in for Friday with temperatures near 70 degrees again. A weak cold front will bring some very light scattered rainfall for the afternoon and evening. The weekend will be cooler behind the front with highs in the upper 50s to middle 60s for Saturday and Sunday, both days should remain rain free.
Models continue to show rain showers for the week of Thanksgiving, keep checking back to see if this may impact your travel plans.
Click Here to Subscribe on YouTube: Watch the latest WAFF 48 news, sports & weather videos on our YouTube channel!
Copyright 2023 WAFF. All rights reserved.