Bob Jones Volleyball Falls Short in State Title Game
Bob Jones closes their season 54-3 overall.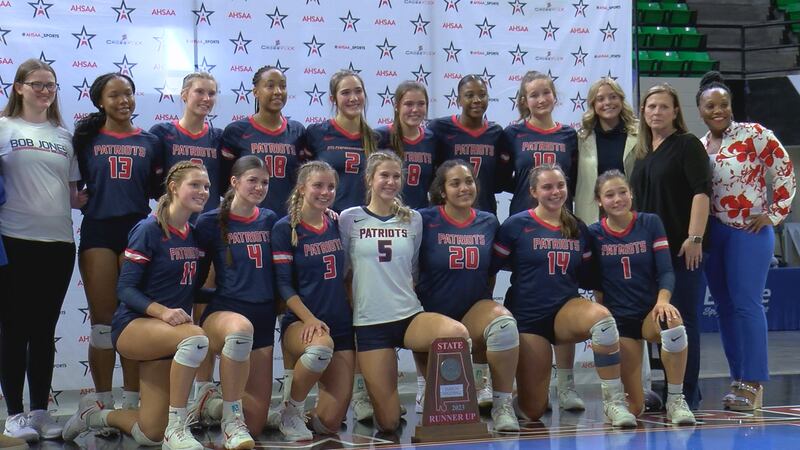 Published: Nov. 2, 2023 at 8:47 PM CDT
HUNTSVILLE, Ala. (WAFF) - For the second straight season the Bob Jones girls' volleyball team won their way to the State Title game. But, for the second straight season, it would be McGill-Toolen that would walk away Class 7A State Champions, defeating the Patriots 3-1.
Bob Jones set the tone in the first set. The Patriots battled back and forth until finally closing it out 25-23 to open the match with a victory.
However, the Yellow Jackets came back swarming. McGill-Toolen started sets two and three on a pair of runs. The Patriots fought hard both sets to close the gap, but the rally would fall short.
Up 2-1 sets, the Yellow Jackets looked to close it out in the fourth set. They would do just that. Another early run would give them the cushion needed to finish on top.
"We thought we had it this year. So, it's just a little harder to swallow," says Patriots head coach Jenny Jarrett, "Just a tremendous fight. They never stopped no matter what the score was."
Despite the loss, the Patriots are proud to have made it to the very end.
"We all worked so hard, and we were pushing through the season. We thought we had this one, but we fell a little short but still it's something to be proud of and I still love every single girl for it," says senior hitter Rachel Mecklenburg.
Bob Jones closes their season, 53-4 as Class 7A State Runner-Up.
Click Here to Subscribe on YouTube: Watch the latest WAFF 48 news, sports & weather videos on our YouTube channel!
Copyright 2023 WAFF. All rights reserved.