Arab, Plainview, Sand Rock head to State Volleyball Championship matches
AHSAA 53rd Elite Eight State Volleyball Championships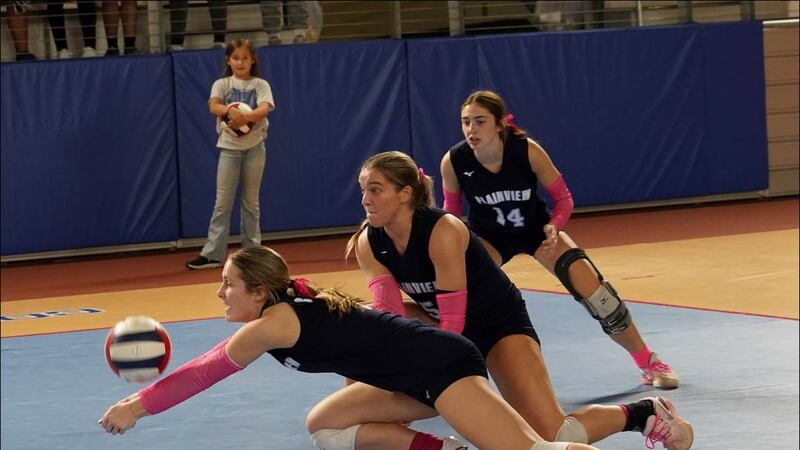 Published: Oct. 31, 2023 at 10:50 PM CDT
HUNTSVILLE, Ala. (WAFF) - Montgomery Academy rolled past Lawrence County and Arab went five sets to beat Alexandria 3-2 in the Class 5A semifinals Tuesday to set up Wednesday's AHSAA Elite 8 Class 5A Volleyball Championships Class 5A finals.
Mobile Christian beat Geraldine and Plainview topped St. Luke's Episcopal in the Class 3A semifinals Tuesday to advance to the Class 3A state championship match at Bill Harris Arena Wednesday as well.
Classes 2A, 3A , 5A and 6A play championship matches Wednesday whiles Classes 1A, 4A and 7A open play at the CrossPlex Wednesday at 9 a.m., with those finals set for Thursday at Bill Harris Arena.
MONTGOMERY ACADEMY 3, LAWRENCE COUNTY 0: The Eagles (52-6) of Hall-of-Fame Coach Julie Gordon defeated Lawrence County (48-18) in the Class 5A semifinals Tuesday at the CrossPlex 25-15, 25-28, 25-18. Montgomery Academy (44-5) has won six state titles – 1986, 2005, 2006, 2013, 2018, 2019,and 2020. Addi Vinson continued her outstanding floor leadership with 29 assists, 12 digs and five kills. Elle McBride totaled 12 kill and eight digs, and Caroline McDaniel contributed 10 kills and 12 digs. Lawrence County (48-18), coached by Robyn Hutto, was led in the semifinals by outside hitter Ava Boyll. She had 11 kills and three blocks. Libero Sarah Dutton had 14 digs, and Kylie Graham had 11 assists, eight digs and two service aces.
ARAB 3, ALEXANDRIA 2: Arab High School senior middle hitter Laney Kelly delivered 21 kills and 10 blocks as Arab clawed out a hard-fought 25-17, 21-25, 25-22, 25-23, 19-17 victory over Alexandria in the other Class 5A semifinal Tuesday. Lexi Mann added 13 kills and four blocks for the Lady Knights' strong front line, Setter Millie Lakey had 48 assists for Arab (47-13). Libero Marissa Pope contributed 24 digs, and outside hitter Bennett Elrod had 15 kills, 16 digs and two blocks. No statistics were available for Alexandria (53-9), coached by Whitney Welch.
CLASS 3A SEMIFINALS
PLAINVIEW 3, ST. LUKE'S EPISCOPAL 1: The Bears (50-5) of Rainsville advanced to the Class 3A state finals for the second straight year with a 25-23, 25-22, 17-25, 25-23 victory over St. Luke's Episcopal (28-23) in the 3A semifinals Tuesday to advance to Wednesday's finals against another Gulf Coast foe Mobile Christian. Plainview, coached by Skyla Gray, had 51 kills among their front line players with Faith Odom leading the way with 18. Kami Sanders added 14, Chloe Hatch had nine, Aubriella Hairston had eight plus six blocks. Setter Ali Price finished with 45 assists and 31 digs in one of the best performances of her high school career. Odom also had 13 digs and four service aces, and Hatch had 16 digs. St. Luke's, coached by Meredith Donald, got an outstanding effort from setter Baker Garside. She had 48 assists, 11 digs, four kills and one block in the semis. Middle blocker Audrey Smith had 19 kills and two blocks, and libero Cammie Waite had 49 digs and three aces.
MOBILE CHRISTIAN 3, GERALDINE 0: The Leopards ( (44-7), coached by Jackie Haines, posted a quick 25-20, 25-20, 25-8 victory over Geraldine (31-18). Sophomore Melaina Haines recorded 13 assists, 18 digs, 11 kills and two blocks in the win for Mobile Christian. Melissa Patel added 16 digs and seven assists, and middle blocker Ella Manning had nine kills and five blocks. Ana Coker also had five kills and three blocks. Mobile Christian will be vying for its first state volleyball title in the AHSAA Wednesday in the finals against Plainview at the finals set for 10 a.m., Wednesday at adjoining Bill Harris Arena.
Class 2A SEMIFINALS
SAND ROCK 3, G.W. LONG 1: The Wildcats (49-17) of Coach Lisa Bates beat South Alabama power G.W. Long 25-22, 23-25, 25-18, with Katelyn St.Clair notching 29 kills and 18 digs. Bethany Davis added 18 digs, Zoey Hardy had nine kills and four blocks, libero Chloe Stephens totaled 25 digs and five aces, and standout setter Rylin St.Clair had 39 assists and four digs. G.W. Long (31-9), -7), coached by Craig Long, was led by freshman setter Sawyer Hughes with 32 assists. Emma Grace Carraway had nine kills, Ally Whitehead and Anna Claire Free had eight kills each. Whitehead also had four aces.
Click Here to Subscribe on YouTube: Watch the latest WAFF 48 news, sports & weather videos on our YouTube channel!
Copyright 2023 WAFF. All rights reserved.