The University of North Alabama adds a new mode of transportation for students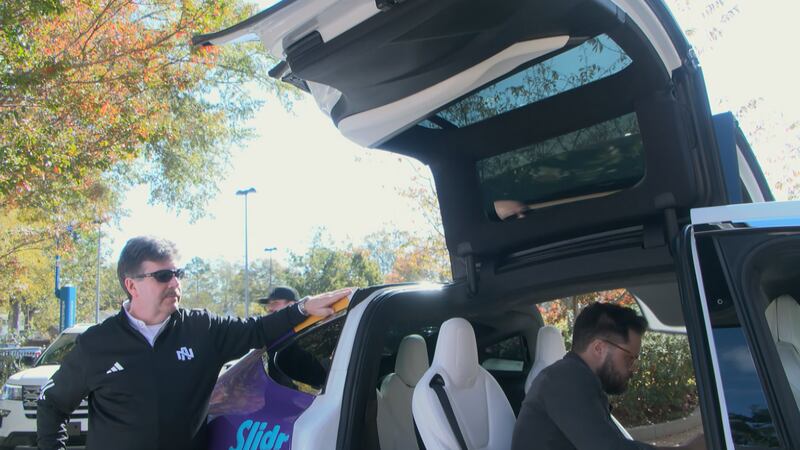 Published: Oct. 26, 2023 at 8:09 PM CDT
FLORENCE, Ala. (WAFF) -A brand new way to get around campus for UNA students debuted today.
UNA is partnering with a company called Slider and has bought three Teslas to tote students around campus. The university is taking the contract on a semester-by-semester trial basis to see if students benefit from it.
University officials said the service will be more environmentally friendly and cut down on the time it takes for students to get one place to another. To kick off the first day of transportation, UNA president Dr. Ken Kitts and his wife Dena surprised students by driving them around.
"It's an opportunity to interact with our wonderful students in an environment that is relaxed and a bit more fun and we're looking forward to it," Dr. Kitts said.
They played trivia, gave out prizes and even created a playlist to introduce students to their music taste. UNA Student Aranzxa Vasquez said she does not have a car so it gives her the chance to get around.
"Honestly for me as an international student, I don't have a car," Vasquez said. "So actually having these services and riding with the president, I'm really grateful for that. And that we have all these facilities for us students here for getting to classes or any place we might need to go."
Students have to pay a one dollar fee to sign up for the app, but every ride after that is free. It is also only for students. Students have to input their identification number into the app to get it to work. Officials said that is an added safety feature.
Click Here to Subscribe on YouTube: Watch the latest WAFF 48 news, sports & weather videos on our YouTube channel!
Copyright 2023 WAFF. All rights reserved.