Cruce comes home
Former Lauderdale County standout, four-year letterwinner at Alabama returns to Shoals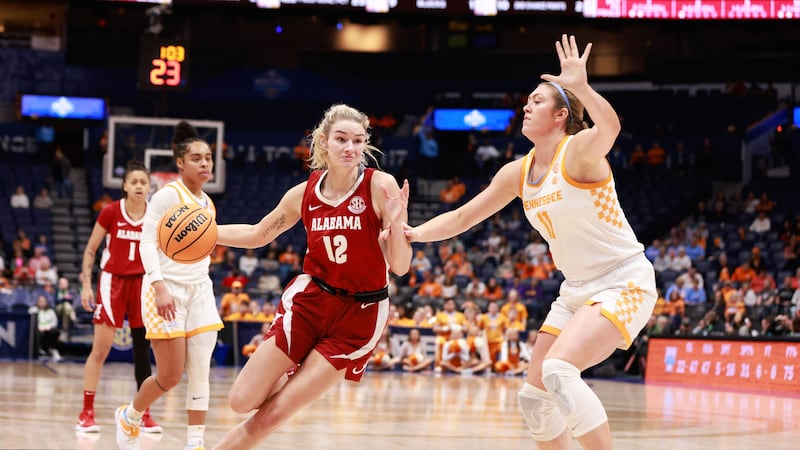 Published: Oct. 23, 2023 at 11:18 PM CDT
HUNTSVILLE, Ala. (WAFF) - University of North Alabama women's basketball head coach Missy Tiber officially added the former Lauderdale County High School standout to her roster as a graduate transfer from Alabama.
Known by many in the Shoals area, Cruce was a two-time AHSAA 3A Player of the Year and led Lauderdale County to a pair of state championships in 2014-15 and 2015-16, as well as a runner-up finish in 2017. Some of her teammates in that stretch of success — three in particular — were triplets Ivy, Emma and Ella Wallen, who many know from their time at UNA.
"It was just a very unexpected turn of events and a whirlwind couple of days," said UNA head coach Missy Tiber. "When Allie Craig wanted to know if we wanted her on the team, I didn't hesitate — 'Of course!' She knows high level basketball and is the exact type of player we seek out. I know she's excited to make her last year special in front of her friends and family here at home."
After graduation in 2018, the Killen native joined the Crimson Tide roster as the No. 14 ranked wing by HoopGurlz ESPNW. She played in all 31 games as a freshman and went on to play in over 100 career games over four seasons.
A late addition to the UNA roster, Tiber said she expects Cruce to suit up as early as Dec. 9 at Chattanooga. This would mark Cruce's first game since March 27, 2021, where she wrapped up her career in the WNIT Quarterfinals.
After a four-year career at Alabama and over a year away from college basketball, Cruce said she is excited to use her final year of eligibility.
"I'm super excited to be coming home and playing for UNA and Coach Tiber," said Cruce. "I'm just really grateful to her and the staff for giving me the opportunity, and I'm super stoked to get to play with all the girls. I love Florence, I love the people, and I can't wait to represent this University in the purple and gold. It's actually full circle — the first time I ever picked up a basketball was at a UNA Lions Camp, so finishing out my career here is just special. I'm excited to play in-front of my hometown crowd and the people that have loved and supported me throughout my entire career. I just can't say enough how excited and grateful I am. All glory to the good Lord above. See y'all in Flowers and Roar Lions!"
A key highlight during Cruce's senior season came during the SEC Women's Basketball Tournament, as she started all three games and scored double figures in all three games, including wins over Auburn and nationally-ranked Georgia.
On top of the two state titles and two AHSAA Player of the Year honors, Cruce was also a four-time all-county selection, a two-time regional MVP in 2016 and 2018, an AL.com Super-State honorable mention in 2016 and an AL.com second team Super State selection in 2018. She also earned the Times Daily Class 1A-3A Player of the Year in 2017 and 2018.
Nicknamed "AC" since her time at LCHS, Cruce is the daughter of Bryan and Amy Cruce. Her father played collegiately at Tennessee Tech. Cruce completed her undergraduate degree in communication studies in August 2021.
The Lions open their season on Monday, Nov. 6 at 5:30 p.m. against UT Southern inside CB&S Bank Arena at Flowers Hal
Click Here to Subscribe on YouTube: Watch the latest WAFF 48 news, sports & weather videos on our YouTube channel!
Copyright 2023 WAFF. All rights reserved.