Supporters of the Perkins family demand the release of body camera footage at city hall protest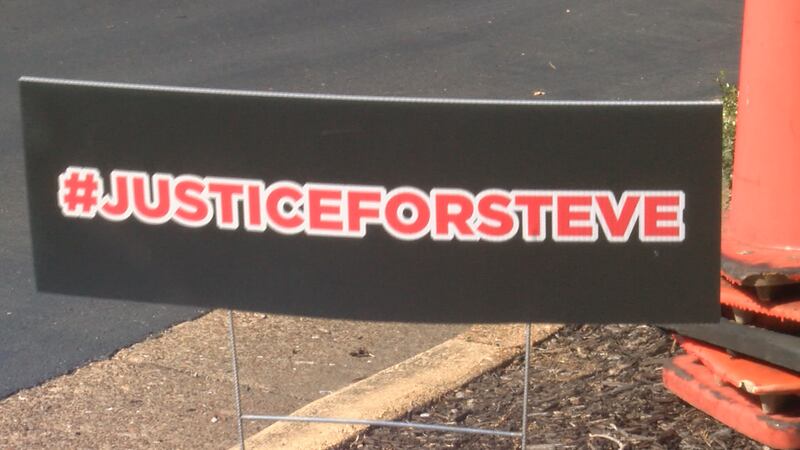 Published: Oct. 18, 2023 at 9:35 PM CDT
|
Updated: Oct. 19, 2023 at 10:04 PM CDT
DECATUR, Ala. (WAFF) - Many protestors were outside of Decatur City Hall on Wednesday demanding answers about the night Steve Perkins was killed outside of his home by Decatur Police Department officers. Officers say he was threatening a tow truck operator with a gun but the family wants proof.
After gathering nearly every night since Perkins was killed, supporters say it's time for answers. They say they need to see what happened to Steve for their own sense of safety and the family's attorneys agree.
Attorneys say they had an agreement with state investigators to see the officers' body camera video but when they showed up to a meeting to see the video, they were asked to file paperwork. They were told they would have to wait until the request was granted by ALEA.
All the family and supporters know so far is what they have seen from neighbors' ring cameras on the night that Perkins died.
"What are we waiting on?" asked 'I am Steve Perkins' movement leader, Adrianna Tapscott. "Release it now, but they're hiding something. If Steve hasn't done anything wrong, we wouldn't have to ask for the release of the body cam footage. They would have put it out there the very next day but because they know they murdered him, they ambushed him and didn't follow the protocol they swore to do, that's why we're not seeing the body cam footage. "
The immediate release of body camera footage is one of several demands from the supporters. They are chanting, "arrest the cops," referring to the effort to put all officers who were involved with Perkins' death on administrative leave. They think it was mishandled from the top down. They are also calling for the resignation of Decatur Police Chief Todd Pinion.
"The Chief is the person that holds this police department accountable," Tapscott said. "So if you can't control your police officers and if you don't have control over them, then they're out here abusing their power, using excessive force maybe they need someone in here that can control them that can hold them accountable that can be transparent."
"The proof is in the pudding, so if you look at the videos that have already surfaced the web, there's your investigation there," protester Alex Ward said. "Those officers ambushed him and killed him for no apparent reason. There's people out here who won't hold themselves accountable to do their jobs that they're hired to do and took an oath to do."
"To be honest with you, I'm not surprised in a way. It's happened at so many places to so many people," protester Melissa Parker said.
Protestors later made their way to Decatur Mayor Tab Bowling's house on Wednesday and Thursday night where they stood outside chanting. Bowling released the following statement on Thursday night:
We had protesters outside our home Wednesday and Thursday evening. Everyone has a constitutional right to protest peacefully and to speak their mind. We respect that right. The City of Decatur will continue to work through the legal and judicial process to fully investigate Steve Perkins' death, and I'll continue to push for that process to move as quickly as possible.
Protestors, family members nor attorneys have a timeline on the release of body camera footage and other demands.
Previous coverage:
Click Here to Subscribe on YouTube: Watch the latest WAFF 48 news, sports & weather videos on our YouTube channel!
Copyright 2023 WAFF. All rights reserved.