No. 12 Alabama seeks 2-0 SEC start at last-place Mississippi State, which wants first league victory
Alabama's first winning streak this season offers promise as it pursues offensive consistency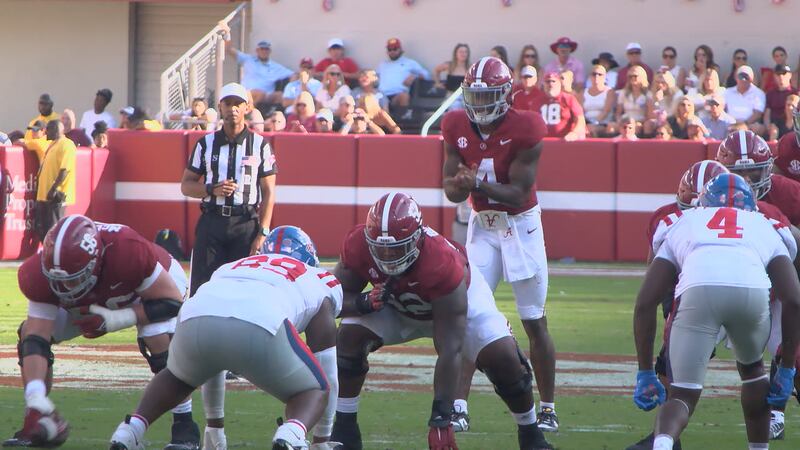 Published: Sep. 28, 2023 at 11:21 AM CDT
Alabama's first winning streak this season at least offers promise as it pursues consistency on offense.
The No. 12 Crimson Tide hope to reclaim the form Alabama is used to at struggling Mississippi State, which looks to end a two-game slide and climb out of the SEC West basement.
Series history favors Alabama (3-1, 1-0 Southeastern Conference) entering Saturday night's matchup in Starkville. The Tide has beaten MSU (2-2, 0-2) 15 consecutive times and is 21-4 in Starkville, despite all those clanging cowbells.
The mission now is playing crisper than in last week's 24-10 home win over No. 20 Mississippi.
"This is something that our players have to really focus on and do a great job in preparation so we can eliminate some of these things that have happened in games," Tide coach Nick Saban said. "Whether they're drive-stoppers or giving up the big play or whatever it is, we got to eliminate those things."
As that quest continues, Alabama can take heart in finishing its second consecutive win better than it started.
The Tide overcame four sacks of quarterback Jalen Milroe – who tossed an end-zone interception – to score 18 points over 14 minutes against the Rebels. Milroe threw a 33-yard touchdown pass to Jalen Hale, which provided a double-digit cushion the defense preserved.
"That's going to allow us to grow throughout the season when we have these road games," Milroe said.
Despite a second consecutive SEC loss, MSU looks to build on the positives as it nears the end of a front-loaded stretch against West heavyweights.
Numbers wise, the pro-style offense looked more like the previous pass-heavy Air Raid scheme of late former coach Mike Leach in last week's 37-30 loss at South Carolina. Will Rogers threw for a career-high 487 yards and Tulu Griffin set a single-game school record with 256 yards receiving and a TD. The Bulldogs outgained the Gamecocks 519-432.
Whatever approach they choose, Rogers believes MSU must be better against Alabama's always-fierce defense ranked seventh in the SEC.
"They really rush after the quarterback and are really solid on the back end," he said. "We'll have our hands full on Saturday."
Defensive improvement might be the Bulldogs' main focus after the Gamecocks opened with TD drives of 98 and 99 yards before later adding consecutive 75-yard scoring marches. Those scores included TD passes of 76 and 75 yards, the latter coming one snap after MSU got within 20-17.
Eliminating explosive plays are a must for the Bulldogs, especially with the Tide trying to develop an identity.
"Usually if you make a team grind it out and have to string together long drives they might do that a couple of times in a game," coach Zach Arnett said. "But it's the big, explosive plays that usually get you beat."
MONITORING MARKS
Bulldogs senior Jo'Quavious Marks, the SEC's No. 2 rusher with 352 yards, is being evaluated daily after a leg injury at South Carolina. Seth Davis and Simeon Price are the backups in case Marks can't go.
HALE'S ARRIVAL
Freshman Jalen Hale delivered two big catches against Ole Miss, including a 33-yard touchdown midway through the third quarter. If the four-star prospect can emerge as a consistent threat, it would be a big boost for a Tide receiving group that needs more players to step up. Hale had two catches for 63 yards after recording only a 5-yard reception in his first two games (he didn't play against Texas).
"I think the biggest thing from Jalen is how hungry he's been," Milroe said. "He's a great component for our offense, and I'm looking forward to see what else he can do for our offense.
MSU'S TACKLING TANDEM
Bulldogs linebackers Jett Johnson and Nathaniel Watson rank first and third in the SEC with 45 and 36 stops, respectively. Each also has three sacks and are among six tied for fifth in the conference. Watson leads with two fumble recoveries, while Johnson has two interceptions.
STINGY DEFENSE
Alabama's defense has been strong since the loss to Texas, giving up just 559 yards and 13 points combined against South Florida and Mississippi. The Tide sacked Rebels quarterback Jaxson Dart five times in the 24-10 win.
CHOICE OF VENUE
It remains to be seen whether MSU offensive coordinator Kevin Barbay calls plays from the sideline or the coaches box, as he did at South Carolina. Coach Zach Arnett said the decision is Barbay's but noted how the Bulldogs pulled off big plays with him looking down.
"I imagine he'll go up again this week," Arnett said, "but if he says he wants to go down on the sideline and call from there, we'll do that too, I guess."
___
AP Sports Writer John Zenor in Alabama contributed to this report.
___
AP college football: https://apnews.com/hub/college-football and https://apnews.com/hub/ap-top-25-college-football-poll