No. 1 Georgia finally hits the road, visiting Auburn in the Deep South's oldest rivalry
The Georgia Bulldogs are taking their show on the road for the first time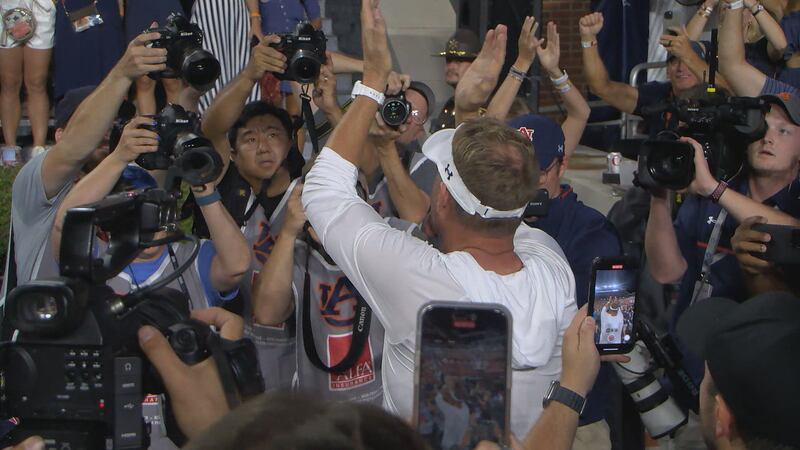 Published: Sep. 28, 2023 at 11:19 AM CDT
AUBURN, Ala. (AP) — The Georgia Bulldogs are taking their star-studded show on the road for the first time.
Challenged only once this season, the top-ranked Bulldogs (4-0, 1-0 Southeastern Conference) visit an Auburn team Saturday that flopped in its first SEC game under Hugh Freeze.
The Deep South's oldest rivalry has been increasingly one-sided in recent years with Auburn (3-1, 0-1) languishing in mediocrity and Georgia winning two straight national titles and emerging as what Freeze calls "one of the gold standards in college football right now."
The Bulldogs are 14 1/2-point favorites heading into Jordan-Hare Stadium, according to FanDuel Sportsbook. But hitting the road does give coach Kirby Smart a new challenge to highlight after four straight home games.
"Road SEC tests are always difficult," Smart said. "There is no way around it. I think any conference when you go on the road in it, it's always a test, a test of focus, patience, endurance, composure, all the qualities you need to be a good team."
Auburn didn't look ready to face the nation's top team in a 27-10 loss to Texas A&M..
Georgia did have a sputtering start in its SEC opener against South Carolina and won just 24-14.
It's Freeze's first direct experience with the venerable border rivalry, and he doesn't get the impression it's one born of hate.
"I'm not big on hate. I'm really not." he said. "I'm big on just, man, this means something to so many people. So we should compete in a way out of love for our people, not necessarily for hate for other people. :
Smart, a former Alabama defensive coordinator, agrees. "I look at it as a hell of a fierce rivalry and that's really why you do this business," the Georgia coach said.
ONE-SIDED RIVALRY
Georgia has dominated the rivalry in recent year with six straight victories, outscoring the Tigers 179-57. Auburn has failed to score more than 14 points in a game since its last victory over Georgia, a 40-17 triumph late in the 2017 regular season. This is the first time the teams have played in September.
THIRD QUARTER BLUES
The Tigers offense hasn't scored in the third quarter of the last two games against FBS opponents. Georgia has outscored opponents 56-0 in the third quarter this season.
QB CHALLENGES
Georgia quarterback Carson Beck will be making his first road start of his career. Auburn's Payton Thorne is just trying to hold onto the starting job after Robby Ashford played most of the second half against Texas A&M.
Beck has been solid so far as Stetson Bennett's successor, completing nearly 73% of his passes for 1,184 yards with six touchdowns and one interception. But it will be intriguing to see how he fares in a hostile environment.
"That's something we're going to find out," coach Kirby Smart said. "I don't think you know."
As for Auburn, is Thorne still the No. 1 guy?
"Yeah, we're still kind of wading through that but that's probably where it will land this week also," Freeze said Monday. Thorne, Ashford and Holden Geriner combined for 56 passing yards against Texas A&M.
AILING DOGS
Georgia has dealt with a rash of injuries and health issues in the first month of the season, but several players appear close to returning.
Defensive end Mykel Williams, who didn't play against UAB because of an illness, should be able to go Saturday. And Smart sounded more hopeful about star safety Javon Bullard, who has missed most of the past two games with an ankle injury.
Receiver Ladd McConkey has yet to play this season because of a back issue, but he appears to be getting closer.
Defensive end Tyrion Ingram-Dawkins (ankle) isn't expected to play, while running backs Kendall Milton (knee) and Roderick Robinson (ankle) continue to recover from their injuries. Auburn running back Damari Alston is expected to miss the game with a shoulder injury and the team has been dealing with injury problems in the secondary, too.
TURNOVER BATTLE
Auburn has forced a league-high eight turnovers through four games with a pair of defensive scores. The Tigers might need to get more to keep this game competitive.
"You can tell they are coaching it, and they are violent, stripping at balls, going after it," Smart said. "That's the growing rate in the country. You got to protect the ball at a higher rate now than ever I can remember."
___ AP Sports Writer Paul Newberry contributed to this report.
___
AP college football: https://apnews.com/hub/college-football and https://apnews.com/hub/ap-top-25-college-football-poll