Increasing Cloud Cover This Evening | Rain Chances Return For The Week Ahead
First Alert Weather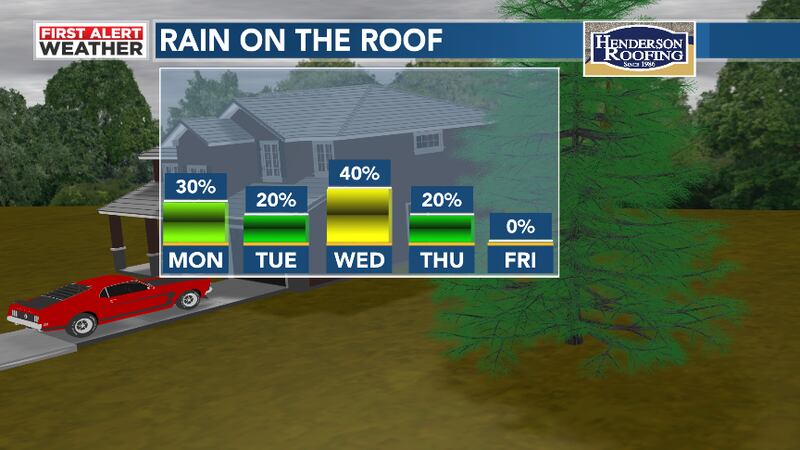 Published: Sep. 24, 2023 at 6:10 PM CDT
Today has been filled with abundant sunshine and this has helped warm up well above average again this afternoon in the mid and upper 80s. With low humidity values though, it still feels relatively comfortable despite the hot start to the fall season. Expect increasing cloud cover as we head into the evening hours and all locations will remain rain-free. Overnight lows will trend milder in the low and mid 60s through your early morning hours on Monday.
A few isolated to widely scattered showers will be possible mainly for areas along and west of I-65 for your early morning commute on Monday as a frontal boundary approaches the region. The rest of the day will feature a mix of sun and clouds with afternoon highs staying near normal in the low and mid 80s. Periods of on and off showers and storms will continue into the evening hours, but most locations look to stay mainly dry. Skies will stay mostly cloudy overnight with early morning lows dropping back into the low and mid 80s.
More isolated showers and storms will remain in the forecast for your Tuesday with high temperatures staying seasonal in the low and mid 80s. The better chance for rain this week will likely be on Wednesday, but it's still not looking widespread by any means. I still would recommend playing it on the safe side and keeping the rain gear handy.
We'll start trending drier and a bit cooler toward the latter half of the work and school week on Thursday and Friday with plenty of sun both days and afternoon highs ranging in the upper 70s and low 80s. This beautiful weather pattern will carry over into your next weekend!
Click Here to Subscribe on YouTube: Watch the latest WAFF 48 news, sports & weather videos on our YouTube channel!
Copyright 2023 WAFF. All rights reserved.