Cool & Comfortable This Evening | Another Sunny & Warm Day Tomorrow
First Alert Weather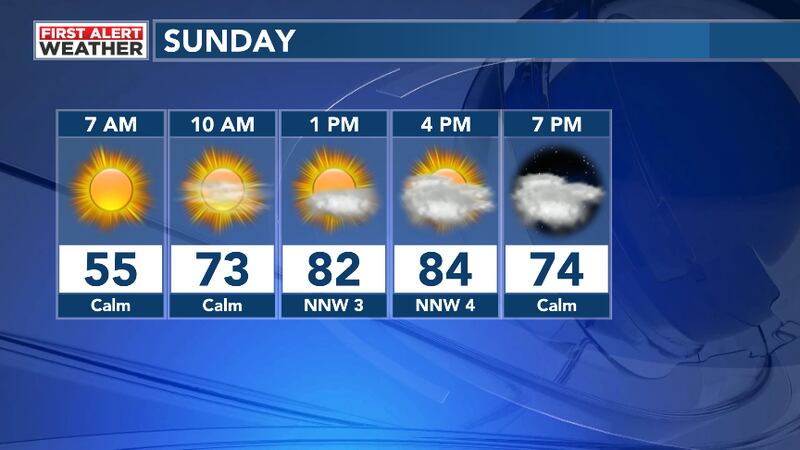 Published: Sep. 23, 2023 at 9:27 PM CDT
Happy fall y'all! It didn't feel very fall-like for today with warm temperatures earlier this afternoon near 90 degrees. It's still been a beautiful day nonetheless though with plenty of sunshine and low humidity. Expect clear skies and calm conditions into the evening hours with overnight lows staying cool and comfortable in the mid and upper 50s. Some areas of patchy light fog could develop into the early morning hours for your Sunday.
Not much change in the weather pattern is expected through the rest of your weekend. Plan on another sunny and hot day with afternoon highs topping back out in the mid and upper 80s. Cloud cover will start increasing as we head into the late evening and overnight hours as a frontal boundary approaches from the west. This will keep overnight lows running a smidge warmer in the low 60s.
Monday and Tuesday, there's an isolated chance for showers and storms both days, but most locations will stay dry. Expect a mix of sun and clouds with high temperatures staying near normal in the low and mid 80s. Our highest chance of rain will be on Wednesday for the week ahead as the front slowly moves into the area. We'll start trending drier and cooler toward the latter half of the work week behind the front. This nice stretch of weather will carry over into next weekend with afternoon highs in the upper 70s to low 80s, and overnight lows dropping back into the upper 50s and low 60s.
Click Here to Subscribe on YouTube: Watch the latest WAFF 48 news, sports & weather videos on our YouTube channel!
Copyright 2023 WAFF. All rights reserved.