Milroe, No. 13 Alabama's defense prevail 24-10 over No. 15 Ole Miss
Jalen Milroe and Alabama's offense busted out of the doldrums in the second half and the 13th-ranked Crimson Tide's defense was strong throughout in a 24-10 victory over No. 15 Mississippi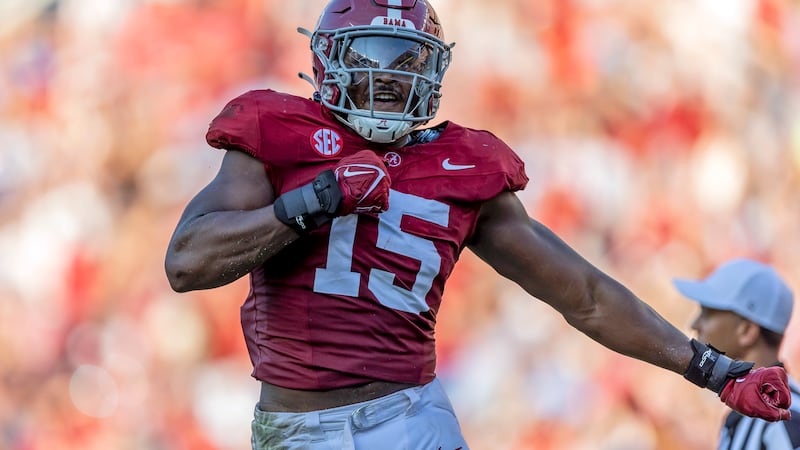 Published: Sep. 23, 2023 at 6:23 PM CDT
TUSCALOOSA, Ala. (AP) — Jalen Milroe and Alabama's offense busted out of the doldrums in the second half and the 13th-ranked Crimson Tide's defense was strong throughout in a 24-10 victory over No. 15 Mississippi on Saturday.
The Crimson Tide (3-1) scored 18 points in a 14-minute span — one more than the team managed against South Florida last weekend — to pull away from the Rebels (3-1) in the Southeastern Conference opener for both teams.
The result was Alabama's eighth straight win over Ole Miss, but not the kind of performance that assuaged concerns about the shaky offensive play. The Tide's eight-year streak in the Top 10 ended this week.
Milroe reclaimed the starting job after watching two backups split time last weekend. He responded with enough positive plays to overcome an interception in the end zone.
The biggest was a 33-yard touchdown pass to freshman Jalen Hale when Milroe delivered a strike in the back of the end zone despite getting hit as he threw. Milroe briefly appeared hurt before dancing off the field in celebration to cheers from the stands, then backup Ty Simpson dove over the line for a two-point conversion and a 17-7 lead.
Jase McClellan's tackle-breaking, 8-yard TD made it 24-10 with 12:10 left.
Jaxson Dart and the Rebels weren't quite done. Dart led them downfield despite heavy pressure by completing two fourth-and-long passes. He couldn't deliver a third in a drive that consumed eight minutes but ended with an incompletion.
Milroe completed 17 of 21 passes for 225 yards with a touchdown and an interception. He also had runs of 20 and 18 yards on the opening drive before the Rebels wiped out most of those gains with four sacks.
Dart was 20-of-35 passing for 244 yards with an interception on a deep ball near the goal line. Dayton Wade had five catches for 88 yards.
McCellan ran 14 times for 94 yards to outgain Ole Miss star Quinshon Judkins (13 carries for 56 yards.)
Dallas Turner had two of Alabama's five sacks.
THE TAKEAWAY
Ole Miss: An offense that had been prolific against lesser competition — and then-No. 22 Tulane — couldn't solve the Alabama defense or protect Dart.
Alabama: The offense continued to go backward and blow scoring chances way too often in the first half. Milroe was sacked four times before halftime, though the protection was better in the second half.
REBELS REINFORCEMENTS
Ole Miss got reinforcements from two offensive transfers to help make up for the absence of injured receiver Tre Harris (knee). Tight end Caden Prieskorn and receiver Zakhari Franklin both played for the first time. Both had a catch.
POLL IMPLICATIONS
Alabama figures to at least move closer to the Top 10, where it had resided in 128 consecutive polls before this week. The Rebels shouldn't drop far.
UP NEXT
Alabama visits Mississippi State.
Ole Miss hosts No. 12 LSU in another big SEC West game.
___
AP college football: https://apnews.com/hub/college-football and https://apnews.com/hub/ap-top-25-college-football-poll