Number of unbeatens in the SEC already is down to five with league play beginning
The number of unbeaten teams in the mighty SEC already is down to five with conference play beginning, and that number could be down to two by the end of the weekend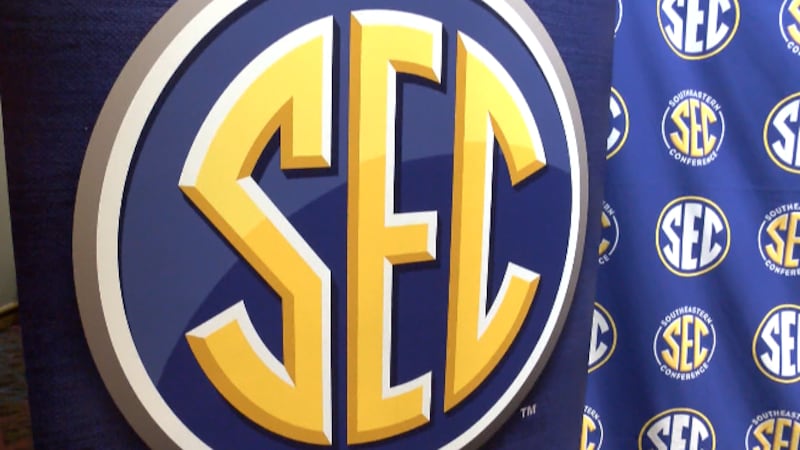 Published: Sep. 21, 2023 at 11:29 AM CDT
(AP) - Georgia found itself in a rare situation against South Carolina last weekend, when the unranked and largely unheralded Gamecocks jumped out to a 14-3 lead against the two-time defending national champions.
Sure, the Bulldogs rallied with three unanswered touchdowns in the second half to keep their win streak going. But the very fact that they were on the ropes just three games into the season raised some eyebrows.
"We did respond to adversity," Georgia coach Kirby Smart said of the close call. "It's going to happen all over the country."
It certainly has been happening in the SEC.
Arkansas was knocked from the ranks of the unbeaten last week when it lost at home to BYU. No. 23 Tennessee also took a big tumble when it was waylaid in The Swamp by No. 25 Florida, which lost to Utah earlier in the year.
"We're disappointed," said Razorbacks coach Sam Pittman, whose team now plays three of the next four on the road. "LSU played really well (last week) and we have our work cut out for us, but we'll be ready when we go down there. LSU the next one at night — it's hard to go to Baton Rouge and get a win."
All of that leaves top-ranked Georgia headlining five teams from the mighty SEC to survive the first three weeks of the season unscathed. And by the end of the weekend, that total could well be two, with Missouri playing another unbeaten in Memphis on a neutral field and No. 15 Mississippi and Auburn heavy underdogs in their games.
The Rebels are headed to No. 13 Alabama, which already has lost to future SEC opponent Texas, to begin a daunting stretch, while the Tigers are on their way to Kyle Field to face Texas A&M, which lost at Miami a couple of weeks ago.
There are just 18 teams in college football's biggest subdivision that have yet to lose this season.
How long will those from the SEC last?
Might as well start with Georgia, which hasn't lost since the SEC title game against Alabama in December 2021, and hasn't lost a regular-season game since Florida on Nov. 7, 2020. The Bulldogs are six-TD favorites to beat UAB on Saturday, according to FanDuel Sportsbook, but then have back-to-back games against unbeatens Auburn and Kentucky.
The real test for the Bulldogs will be four games late in the season, though.
It begins with Florida on Oct. 28 and continues against Missouri, which improved to 3-0 last week with a win over then-No. 15 Kansas State. Ole Miss comes to Sanford Stadium the next week before the Bulldogs wrap the stretch with a trip to Tennessee.
Missouri is favored by only 6 1/2 points against Memphis this weekend in a game being playing in St. Louis. If the Tigers get by that game and an SEC opener against Vanderbilt, LSU visits Faurot Field for what could be a big-time showdown.
Kentucky has hardly been tested during its 3-0 start, blowing out Ball State, Eastern Kentucky and Akron. And whether that nonconference schedule has prepared coach Mark Stoops' team will be known soon: The Wildcats are two-touchdown favorites against Vanderbilt this weekend before back-to-back games against the Gators and the Bulldogs.
"We have to concentrate on ourselves, going on the road and playing a better, more efficient style than we have been," Stoops acknowledged this week. "We've got to be better in a lot of areas."
Then there are Ole Miss and Auburn, the two teams most in peril this weekend.
The Rebels have one of the SEC's few marquee nonconference wins, over then-No. 24 Tulane a couple of weeks ago, and are coming off a tidy 48-23 win over Georgia Tech. But the level of competition goes up immeasurably against 'Bama, a touchdown favorite at home, with LSU lurking for Mississippi the following week.
Auburn is similarly untested heading into conference play, easily beating Massachusetts and Samford while struggling past lowly California. So the Tigers' trip to Texas A&M, which is more than a touchdown favorite, figures to be an eye-opener for coach Hugh Freeze and his bunch, who are merely beginning a stretch that also includes Georgia, LSU and Ole Miss.
Good luck carrying an unbeaten record through that.
"Let's be really clear: We're getting ready to play teams that over the last four to five years ranked in the top seven to-five in recruiting," Freeze said, "so you're playing the best recruits in the nation. And we're going to be there soon, and that doesn't mean you can't compete and win the game and all that. ... But they're all really, really talented, and you see that."
___
AP college football: https://apnews.com/hub/college-football and https://apnews.com/hub/ap-top-25-college-football-poll