Cooler Evening Ahead | Fall Officially Arrives This Weekend
First Alert Weather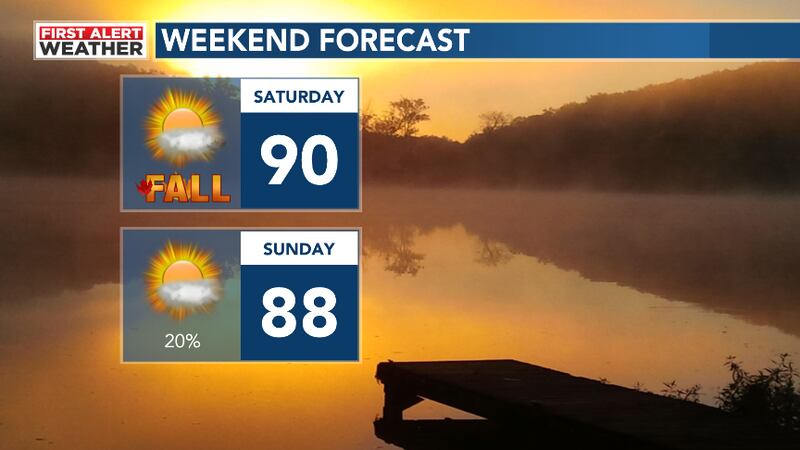 Published: Sep. 21, 2023 at 5:42 PM CDT
Despite the early cloud cover, skies have cleared through this afternoon paving the way for plenty of sunshine! As a result, temperatures have warmed up quickly into the low to mid 80s with an east-southeast breeze. Skies will stay clear overnight with some areas of patchy fog developing near bodies of water and in the sheltered valleys thanks to the calm conditions expected. Overnight lows will remain mild and comfortable in the low and mid 60s.
Friday will be a great end to a very nice work and school week with more sunshine and highs in the middle to upper 80s. The weekend forecast looks very pleasant, but hotter with partly cloudy skies expected for Saturday and Sunday. Isolated rain showers and storms may develop into late Sunday afternoon and evening, but most locations will likely remain dry.
Next week will bring in a backdoor cold front that will drop our high temperatures into the upper 70s for the early part of the week. Scattered rain showers and storms are in the forecast for Monday and Tuesday. It's not looking like a wash-out by any means, but it could be some much needed rainfall in some areas.
Click Here to Subscribe on YouTube: Watch the latest WAFF 48 news, sports & weather videos on our YouTube channel!
Copyright 2023 WAFF. All rights reserved.