Dog food being recalled over salmonella concerns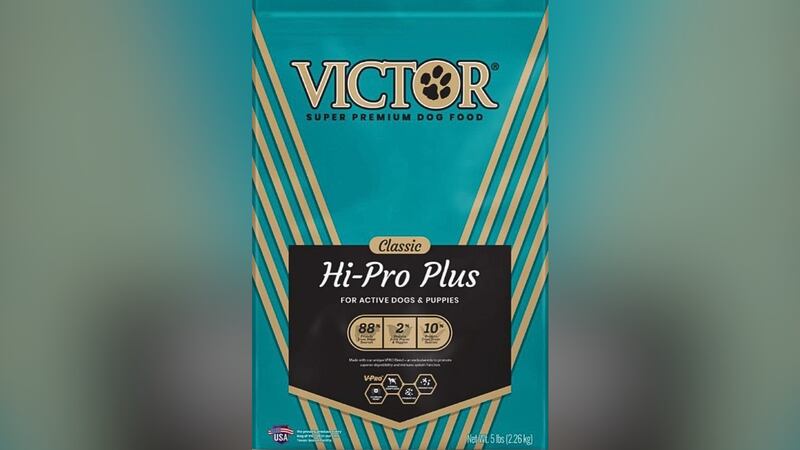 Published: Sep. 5, 2023 at 8:11 PM CDT
(Gray News) - Mid America Pet Food is voluntarily recalling some of its dog food produced at its Texas facility.
A lot of Victor Super Premium Dog Food, Hi-Pro Plus produced at a Mount Pleasant, Texas, production facility is being voluntarily recalled.
According to the recall, the dog food involved could possibly be contaminated with salmonella.
The U.S. Food and Drug Administration states that salmonella can affect animals eating the products, and there is a risk to humans from handling contaminated pet products.
The affected product was sold in 5-pound bags and distributed to various distributors and retailers in the United States.
The affected product consists of 644 cases with lot code 1000016385 with a best-by date of April 30, 2024. Lot code information is found on the back of the bag.
No other products are included in the recall.
The voluntary recall has been issued due to a single sample of Victor Super Premium Dog Food that tested positive for salmonella in a random sample test conducted by the South Carolina Department of Agriculture.
Retailers and distributors have been advised to immediately pull the recalled product from their inventory and shelves.
Customers should not feed the recalled product to pets or any other animals.
Pets with salmonella infections may be lethargic and have stomach issues.
If your pet has consumed the recalled product and has any symptoms, please contact your veterinarian.
Healthy people infected with salmonella should also monitor themselves for any health-related issues such as nausea, vomiting, abdominal cramping and fever.
Consumers exhibiting these signs after having contact with the product should contact their health care providers.
Currently, no human or pet illnesses have been reported in connection with the recalled product.
Mid America Pet Food Consumer Affairs can be contacted at 1-888-428-7544 for additional information.
The voluntary recall is reportedly being conducted in cooperation with the Food and Drug Administration.
Copyright 2023 Gray Media Group, Inc. All rights reserved.