Auburn fans step up after woman asks for help finding hat that belonged to father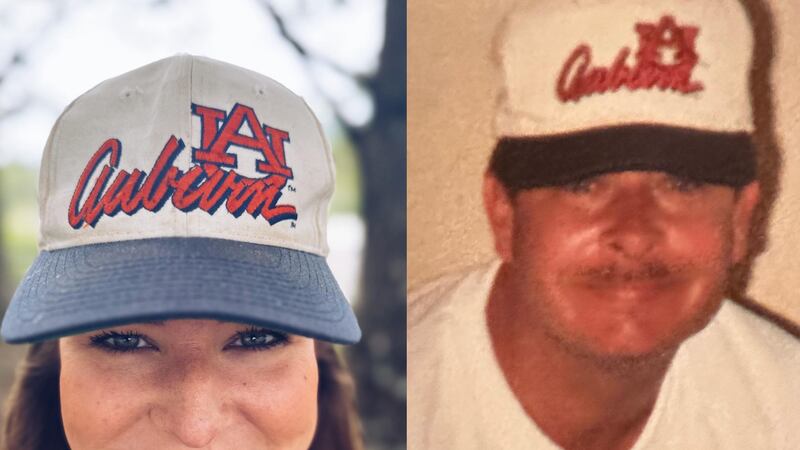 Published: Aug. 31, 2023 at 7:02 PM CDT
|
Updated: Sep. 1, 2023 at 1:23 PM CDT
COLUMBUS, Ga. (WTVM) - Many people turn to social media to help find a ticket to a big game, but very few score like Alexis Kelley did last week.
Kelley, an Auburn graduate, has fond memories of watching football with her dad John Oliver. She is thankful to share wonderful memories with her father like graduations and her wedding.
"My grandparents both went to Auburn. My dad did not go to Auburn, instead, he decided to serve our country. He served our country for 20 years. He was a hero that way, but also, just the best dad there ever was," said Kelley.
However, her time with her dad was cut short just a few years ago. Major John Windham Oliver, IIII passed away in 2021. He was 68-years-old.
Recently, Kelley stumbled upon a photo showing her dad wearing a distinct white and blue Auburn hat. Her mom was certain the hat was long gone, but Kelley hoped she could find one just like it online.
"The Auburn Ticket Exchange has over 50,000 people in. I thought someone in this group is a collector, or has it from their dad or grandfather, and it's just sitting around," said Kelley.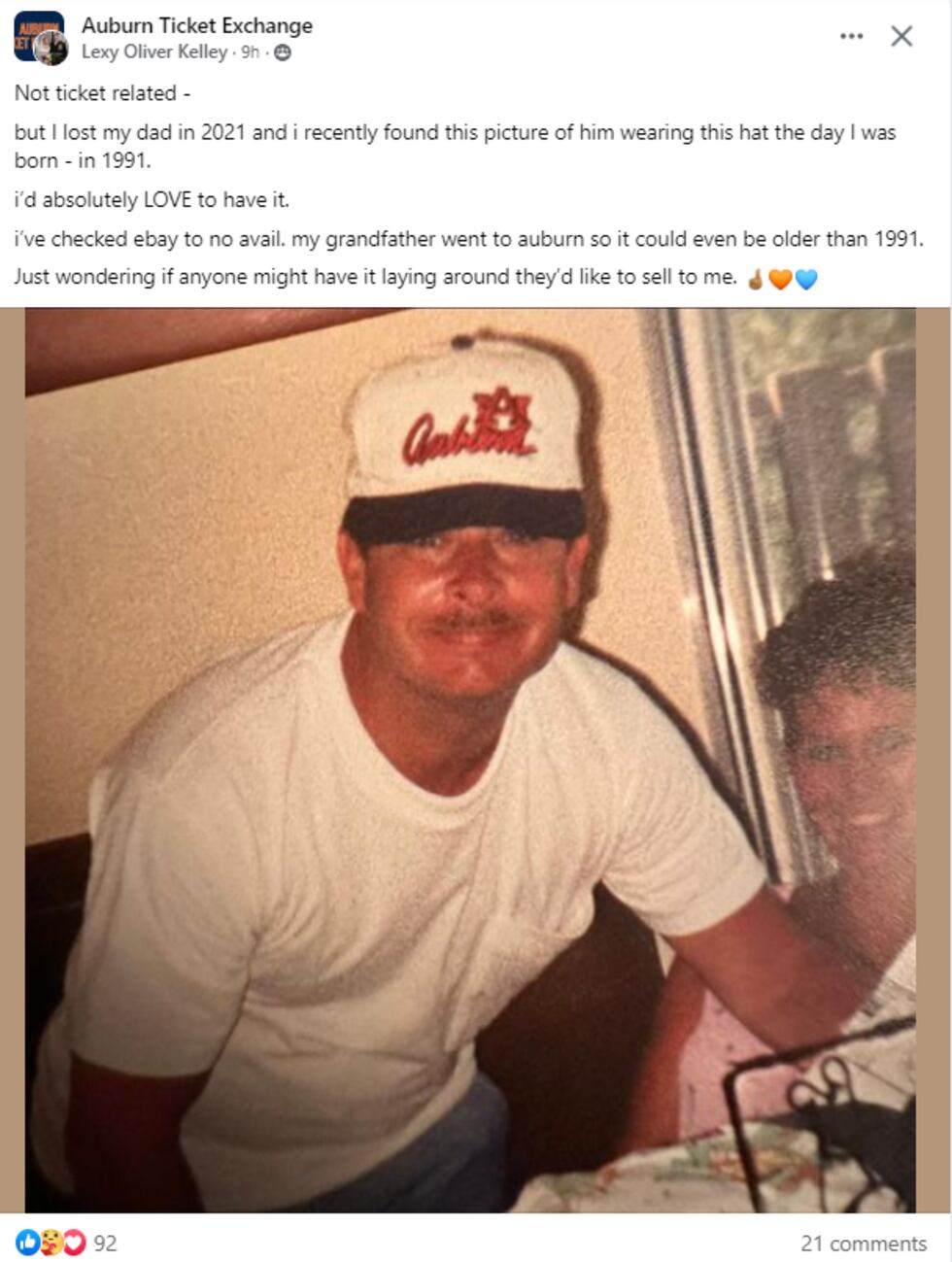 More than forty people commented on the post with efforts to help locate the hat. Most links would send Kelley to out of stock notices or broken URLs. However, the teamwork from fellow fans was inspiring.
"It was very powerful to see everyone on all hands on deck trying to find the hat. Not only does it speak to the Auburn Family, but SEC football in general. People are able to connect a personal story if they lost somebody, so they could connect to my story," said Kelley.
She eventually expanded her search to X, formerly known at Twitter, with a similar post. Her request was met just a few hours later.
The X account for AUFamily.com posted two photos. The first showed an exact match to the hat Kelley was looking for. The second photo showed the hat flipped over with the words "War Eagle, Pat Dye" written clearly on the inside bill. A follow-up message from the AUFamily account would confirm what Kelley could not believe to be true: the hat, signed by a legendary Auburn coach, was hers to keep.
Moreover, the AUFamily account insisted the hat would be free. Kelley, who lives in Nashville, received the hat in the mail just days after the event.
"It's an epic gift to be given this hat. It's something I will treasure forever. It gives me an opportunity to have something my dad owned, to have a stronger connection to him," said Kelley. "For someone to give up something signed by Pat Dye, probably worth a lot of money, to somebody who just has an emotional attachment to it really speaks to the Auburn family," she added.
Kelley said she does plan on buying a case or frame for the hat to proudly display in her home. WTVM reached out directly to the AUFamily X account to ask if we could credit any individual for the donation. We were told to give credit to AUFamily.com.
Copyright 2023 WTVM. All rights reserved.