One youth hockey team in Alabama is putting more competition on the ice
Published: Aug. 27, 2023 at 2:52 PM CDT
HUNTSVILLE, Ala. (WAFF) - Hockey in Alabama probably doesn't seem like it goes together, but one team in the state is making the moves on a big scale.
In April, the 16U AA Alabama Thunder youth hockey team became the first team in the state to earn the USA Hockey national champion title after defeating the Charleston Jr. Stingrays in the USA Hockey Tier II 16U National Championship tournament.
Check out the ring the squad received to commemorate the accomplishment: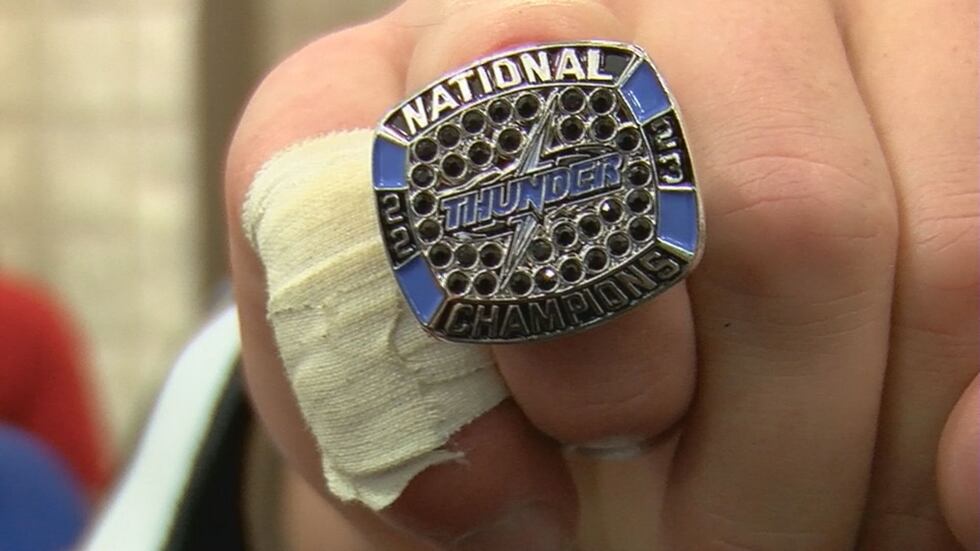 Since then the team has been persistently edging its competition on the ice and trying to gain even more traction in Alabama.
The team competes in the North Alabama Hockey Association (NAHA) and they hope the accomplishment will aim at more youth athletes to join in the ranks.
NAHA board president and former UAH hockey star, Tony Guzzo says the program showcases more of the squad's competitiveness to be champions at a high level.
"There's opportunities for all these kids to really get involved and win at the higher levels," Guzzo said.
A similar theme remains in its players, two of them; Kory Piper and Riley Parker say all the doubt, fuels their game even more.
"A lot of kids can see what you can do and how you can do it if you just work hard and just put your mind to it and you can really do anything. No matter what anyone else says," said Thunder center Riley Parker.
The 16U AA Alabama Thunder team celebrated its impressive accomplishment on Saturday by hanging the national championship banner in the Huntsville Ice Sports Center rafters.
The team completed a perfect 5-0 record during the tournament.
So, next time you think hockey isn't a big deal in Alabama, think again.
Click Here to Subscribe on YouTube: Watch the latest WAFF 48 news, sports & weather videos on our YouTube channel!
Copyright 2023 WAFF. All rights reserved.