One week until UNA's season opener as special teams gear up for 2023 season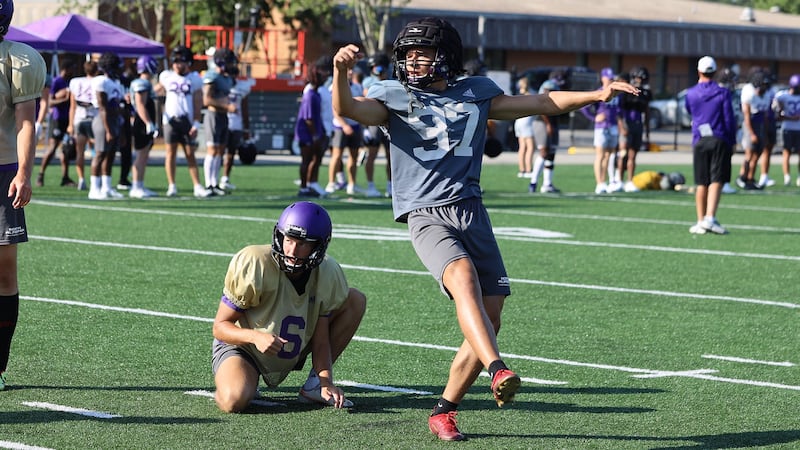 Published: Aug. 19, 2023 at 1:47 PM CDT
FLORENCE, Ala. (WAFF) - The University of North Alabama football team had its final Saturday practice ahead of its season opener on August 26.
As an integral part of the roster, UNA special teams are preparing for the upcoming season. The Lions roster currently has five kickers listed, led by returning redshirt junior Sam Contorno. Contorno will be entering his fourth season at UNA, following last season where he played in all 11 games. He went 6-for-7 on field goals with a long of 43 yards.
Last season, the primary punter for the Lions was redshirt sophomore Thomas Dowis, who earned Phil Steele All-ASUN honors for a career 29 punts and a total of 1,196 yards. Dowis averaged 41.2 yards per punt with a long of 56 yards. He enters his fourth season on the team with a redshirt year in 2020.
There remain three freshmen within the special team's group including redshirt freshman kicker Nathan Ogletree who made a 34-yard field goal in UNA's scrimmage last Saturday at Braly Stadium, according to a press release from the team. Two true freshmen Adam Watford and Zach Aird joined the specialist group this season.
The Lions have two players listed as long snappers, redshirt freshman Evan Godwin and true freshman Nathan Curry. Godwin will enter into his second season at UNA. Meanwhile, Curry will begin his adventure at UNA coming from Stewarts High School in Murfreesboro, Tenn., as a 2021 All-State Specialist.
Special teams coordinator Luke Roth oversees the group and joined the staff in December of 2022. Roth has a lot of connections with head coach Dearmon as they happened to be teammates at Bethel University, where Roth punted and Dearmon played quarterback.
Roth is pumped for the competition to ramp up on the gridiron for the Lions' special teams.
"There's a lot of competition for all the positions — not just specialist-wise, but guys that are going to be on punt, kickoff, and the other core four units," Roth said. "We're trying to get some young guys involved a little bit more, but we've been competing since the spring. Things are looking pretty good for us right now."
Click Here to Subscribe on YouTube: Watch the latest WAFF 48 news, sports & weather videos on our YouTube channel!
Copyright 2023 WAFF. All rights reserved.