Huntsville City FC play to a draw
Improves unbeaten streak to four matches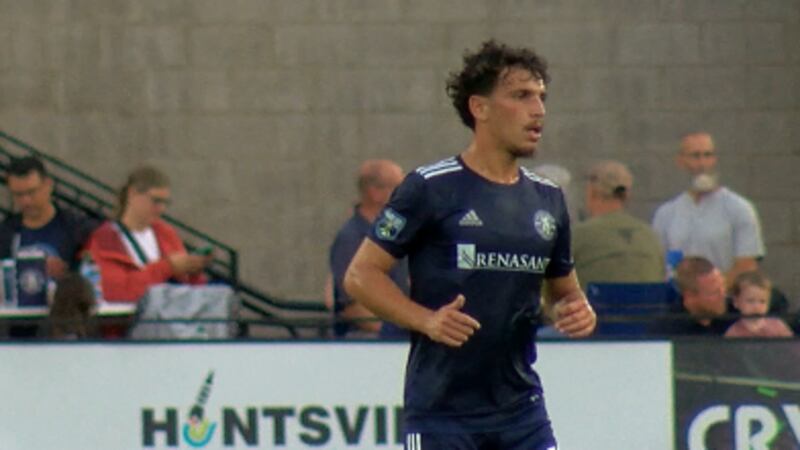 Published: Aug. 9, 2023 at 10:47 PM CDT
HUNTSVILLE, Ala. (WAFF) - Huntsville City Football Club extended its unbeaten streak to four with a 1-1 draw against Columbus Crew 2 at Wicks Family Field at Joe Davis Stadium, remaining in playoffs contention in seventh place in the Eastern Conference.
The first Homegrown signing by Nashville SC broke through the Columbus Crew defensive line to receive a ball from Kemy Amiche, and put it past the keeper to open the scoreboard in the seventh minute. Watch it here.
Just three minutes into the second half, Columbus found the equalizer through Taha Habroune following a pass from Mataeo Bunbury. The Crew was awarded a penalty kick in the 52nd minute, but Noah Fuson sent it off frame.
The remainder of the match brought opportunities for both sides, but neither team was able to capitalize on them despite Huntsville playing down a man from the 84th minute. John Berner came up strong for the local team to preserve the deadlock and send the match into shootouts.
After the match, Head Coach Jack Collison and Sipić spoke about the match, the team's current performance, the upcoming match against Crown Legacy and the rapport between players and with the younger group. Footage can be found in the media resources.
Huntsville City FC will once again face a quick turnaround as they travel to Crown Legacy FC at 11 a.m. CT on Sunday, Aug. 13 at the Mecklenburg County Sportsplex at Matthews, NC.
Notes:
Huntsville City

has scored in 17 of 21 matches this season

has scored in all but one game at the Wicks Family Field at Joe Davis Stadium

records four consecutive results for the first time

has recorded nine results in the past 11 matches (seven wins, two draws)

Kemy Amiche recorded his sixth assist of the season, taking the team lead
Isaiah Jones made his professional debut with a start with Huntsville City FC playing 62 minutes
Adem Sipić scored his second goal of the season
Joey Skinner served as team captain for the second time this season
Box Score:
Huntsville City FC (8W-8L-5D, 3SOW, 32 pts.) vs. Columbus Crew 2 (12W-6L-3D, 3SOW, 42 pts.)
Wicks Family Field at Joe Davis Stadium | Huntsville, Ala.
Final Score:
HCFC: 1
CLB2: 1
Scoring Summary:
HCFC: Adem Sipić (A: Kemy Amiche) 13′
CLB2: Taha Habroune (A: Mateo Bunbury) 48′
Discipline:
CLB2: Marco Micaletto (caution) 7′
HCFC: Fernando Ciceron (caution) 28′
HCFC: Perrin Barnes (caution) 69′
HCFC: Fernando Ciceron (ejection, second caution) 84′
CLB2: Cole Mrowka (caution) 90+1′
Lineups:
HCFC Starters: John Berner; Joey Skinner, Fernando Ciceron, Sean Suber, Chris N'sa (Perrin Barnes 46′); Josh Drack (Shaun Joash, 82′), Joey DeZart, Isaiah Jones (Isaiah Johnston 62′), Ollie Wright (Nebiyou Perry 62′); Adem Sipić (Azaad Liadi 61′), Kemy Amiche
Substitutes: Jacob Grekowicz, Ahmed Longmire, Cyrus Rad, Eli Wachs,
CLB2 Starters: Stanislav Lapkes; Stuart Ritchie, Jacob Erlandson (Jordan Knight, 70′), Clay Holstad, Abdirizak Mohamed; Taha Habroune, Giorgio De Libera (Christopher Rogers, 70′), Marco Micaletto (Cole Mrowka, 70′); Coleman Gannon, Noah Fuson, Mateo Bunbury (Brent Adu-Gyamfi, 81′)
Substitutes: Alexander Zochowski, Nicolas Steve Rincon Jacobo, Owen Lange Presthus, Ty Nero, Aidan Wolf
Attendance: 3,480
Click Here to Subscribe on YouTube: Watch the latest WAFF 48 news, sports & weather videos on our YouTube channel!
Copyright 2023 WAFF. All rights reserved.