Moms for Liberty event met with protesters at Madison Public Library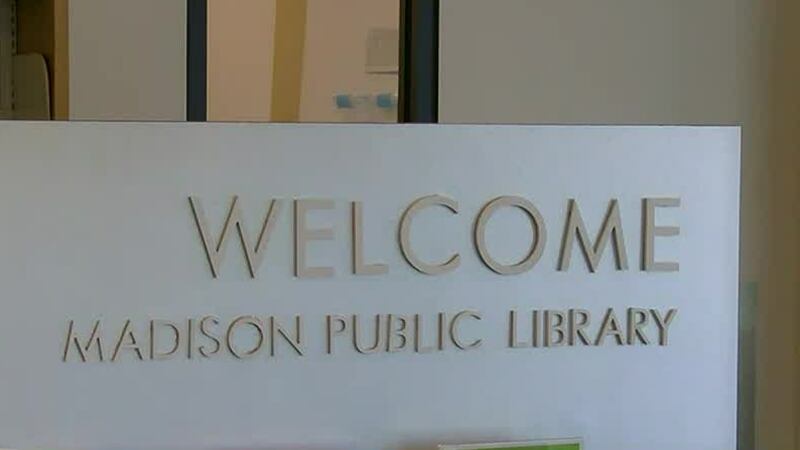 Published: Aug. 6, 2023 at 11:19 PM CDT
HUNTSVILLE, Ala. (WAFF) - Saturday morning set the stage for a highly-anticipated book-reading for Christian conservatives in attendance for a Moms for Liberty event. But that same event brought out protesters who stand against what the group has helped do the recent months.
Actor Kirk Cameron was the headliner at Madison Public Library, bringing both supporters and protesters for the Mom's for Liberty event. Earlier this week, the library tried to cancel the event, citing concerns that too many people might exceed legal capacity.
But Moms of Liberty threatened to take the library to court, clearing the way for the actor to make his appearance. Amy Tidwell brought her family and friends to Saturday's book-reading to see Cameron.
"He has come against some backlash from opposing groups of people to the point that this has become an issue for everybody to see," Tidwell said.
Meanwhile, protesters were giving away hundreds of books that Moms for Liberty had a hand in banning from schools and libraries in other states. The group usually targets books dealing with gender or LGBTQ issues. They say it's about keeping adult content away from kids.
Protesters like Robin Dauma tell me that's why they're here.
"I was a high school English teacher and a teacher in the public school system for 26 years and I cannot tell you the power that words have. And I just believe that we need to do everything we can to get more books in the hands of students of all ages," Dauma said.
Both protesters and supporters tell me there were conversations between the two sides with zero hostility in-between.
"It was nice that we could have some conversations once we got here, I was just here to get in there and listen to Kirk had to say, but seeing the others that were out here, it was good to get to talk with them," Tidwell said.
Dauma told me she doubts there were any changes in anyone's position, but she feels Saturday was a good reminder that respect for others goes a long way in such a politically-divided climate.
"I think that from both a political, religious, just philosophical -- all kinds of points of view -- curiosity goes a long way," Dauma said. "And just looking at person as a person, not a cause. And I think some of that went on today and I think that's very important for our country."
Click Here to Subscribe on YouTube: Watch the latest WAFF 48 news, sports & weather videos on our YouTube channel!
Copyright 2023 WAFF. All rights reserved.