Havoc's new coach looks to rebuild young team for 2023-24 season
Published: Jul. 30, 2023 at 6:05 PM CDT
HUNTSVILLE, Ala. (WAFF) - If you need some cool thoughts on these blazing hot summer days - here's one: The Huntsville Havoc are already putting together the 2023-2024 roster.
We caught up with new head coach Stuart Stefan Sunday morning at Huntsville's Ice-Plex. The team was holding a free agent camp for players looking to break into the Southern Professional Hockey League. After three days of workouts and scrimmage games, coach Stefan has been impressed. "There's definitely been a few guys that've stood out." Stefan told WAFF 48. "Our goaltending is really strong this year here at camp so they're making the decision really tough in net. There's a couple of guys who've been scoring a lot of goals too, so it's gonna be a tough decision on the guy we pick for sure."
The team has announced several returning players for the upcoming season, including Cole Reginato and Jamie Bucell. Each returning player is one more spot on the roster that the free agents who came to Huntsville this weekend can't get. "For this camp here, a lot of the guys came in from club hockey, there's a few younger guys from junior hockey. A lot of times it's a big step to go from junior to pro, but maybe they can't afford to go to college or don't want to go to college." Stefan says. "A couple of those young guys look really good too."
(story continues below)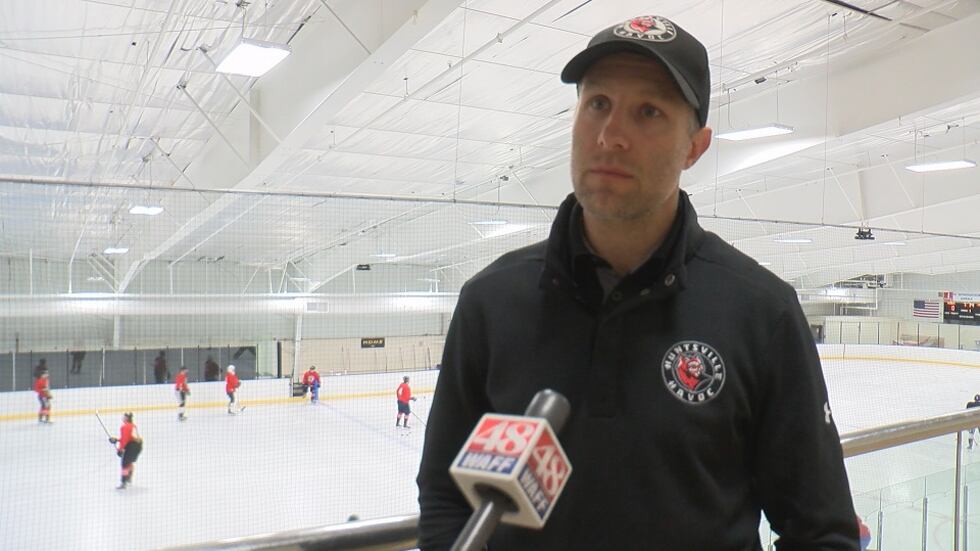 This is Stefan's first major team event as the head coach. He's been watching and learning as Glenn Detulleo's assistant coach for several years. Now, Detulleo has been promoted to a job in the front office and Stefan has the whistle. "I'm definitely excited and it's kind of a new challenge and I'm ready for it."
Stefan's old number 7 hangs from the rafters at the VBC. He was an on-ice leader for years before taking his talents behind the bench. He ranks 4th all time in the number of points scored in a Havoc uniform (84 goals and 164 assists in 379 games), and is the top scoring defenseman in team history.
Stefan's first challenge will be finding a way to replace two of the biggest weapons in Havoc history. "It's gonna be a young team" Stefan said. "A lot of our guys are retiring, it's exciting to build a new culture here with a different group of guys. Hopefully we can play an exciting brand of hockey." Both Sy Nutkevitch and Tyler Piacentini announced their retirements over the summer. Nutkevitch is the team's all time leading scorer, and Piacentini is just a few points behind Stefan as #5 on the list. Piacentini is staying with the team as Stefan's assistant.
The first Havoc home game is October 27th
Click Here to Subscribe on YouTube: Watch the latest WAFF 48 news, sports & weather videos on our YouTube channel!
Copyright 2023 WAFF. All rights reserved.