Panthers first-round pick QB Bryce Young signs 4-year rookie deal
The deal is worth $37.96M and is fully guaranteed including a $24.6M signing bonus.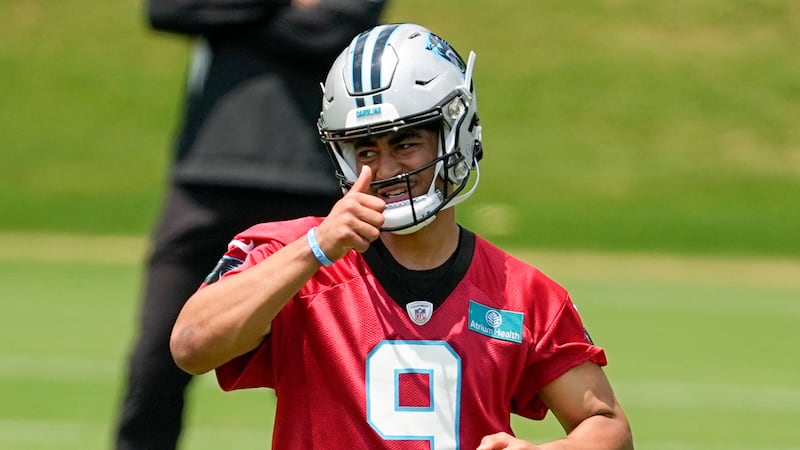 Published: Jul. 21, 2023 at 3:41 PM CDT
|
Updated: Jul. 21, 2023 at 3:53 PM CDT
CHARLOTTE, N.C. (WBTV) - In preparation for the 2023 NFL season, the Carolina Panthers have locked up their franchise quarterback for the next four seasons.
The team agreed to terms with No. 1 overall pick Bryce Young on a four-year deal.
The deal is worth $37.96 million and is fully guaranteed, including a $24.6M signing bonus, according to NFL Network's Ian Rapoport.
The #Panthers and No. 1 overall pick Bryce Young have agreed to terms on his 4-year fully guaranteed $37.96 contract that includes nearly $24.6M in a signing bonus that he gets up front. He'll sign soon.

— Ian Rapoport (@RapSheet) July 21, 2023
During his two years as a starter at Alabama, Young put up impressive numbers, throwing for 8,200 yards and 79 touchdowns in 27 games. He earned the Heisman Trophy and appeared in a College Football Playoff Championship game.
This past spring, the Panthers sent wide receiver DJ Moore and a plethora of picks to Chicago to secure the No. 1 spot in the NFL draft and select the Alabama standout.
Training camp for the Panthers starts in Spartanburg, S.C., next week.
Related: Panthers release training camp dates; tickets now required for fan entry
Download the free WBTV News app for updates and breaking news.
Watch the latest WBTV broadcast here:
Copyright 2023 WBTV. All rights reserved.