'Turning pain into purpose': Walk planned to remember De'Ja Bolden
Published: Jul. 19, 2023 at 11:11 PM CDT
DECATUR, Ala. (WAFF) - The date July 19 is really tough for one Decatur family.
Two years ago today, they got a call saying their daughter was brutally killed in broad daylight and have used these two years to turn their pain into purpose.
De'Ja Bolden was the light of her family before she was tragically killed in 2021 at the age of 25.
On her way to work that morning, Bolden was stabbed multiple times and left in the middle of 5th Avenue in Decatur, right in front of her home.
Her family and police say her killer lived right across the street.
"He was obsessed with her," explained LaTanya Davis, De'Ja's mother.
A year leading up to her death, Bolden shared that her neighbor had been acting strangely.
"She felt uncomfortable when she would come outside, that he would be standing across the street looking at her and I said if it's that bad, call the police and make them aware," Davis said.
Bolden reported instances of her neighbor, Macray Williams watching her come and go or pacing in front of her home with a knife in his hand or even when he threw a brick at her car.
She got a restraining order against Williams but even when the behavior continued, De'Ja's sister, Je'Da Bolden said "there was nothing they could do because he was not on the property, he would be across the street or in the road."
Her accused killer, Macray Williams is still in the Morgan County Jail, awaiting a mental evaluation.
Davis turned her grief into action by creating, the non-profit organization, S.E.V.E.D.A - "Supporting Each Victim Encountering Domestic Abuse."
"Just because you're not with somebody doesn't mean that it's not abuse or domestic abuse. My daughter was not dating that guy, but she was stalked by him and that to me was domestic abuse what he did to her," Davis said.
In memory of Bolden, the SEVEDA organization along with 7th Haven Inc. are hosting a domestic violence walk on Saturday, July 22 at 9 a.m. This will start at the Daikan Amphitheater on Canal Street. Everyone is welcomed to attend.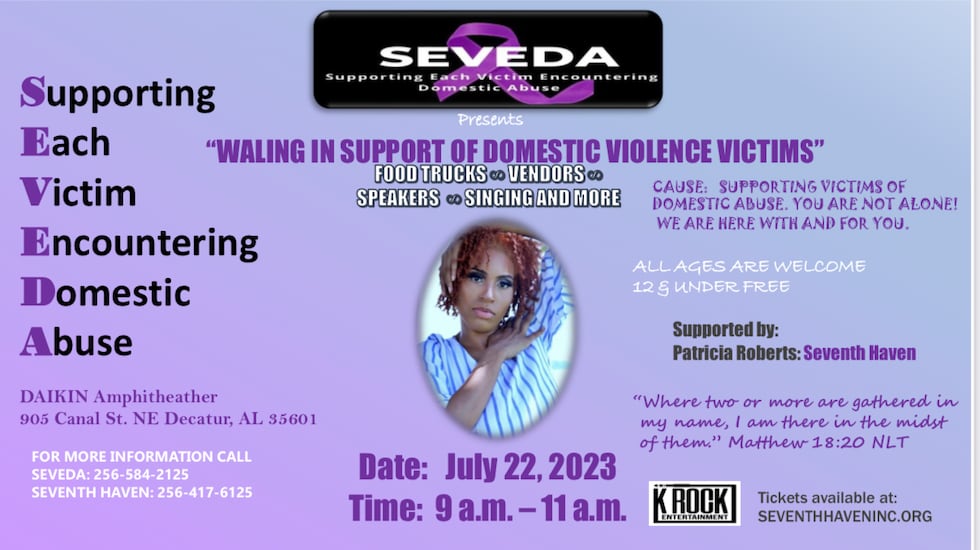 Click Here to Subscribe on YouTube: Watch the latest WAFF 48 news, sports & weather videos on our YouTube channel!
Copyright 2023 WAFF. All rights reserved.