Havoc's all time leading scorer Nutkevitch retires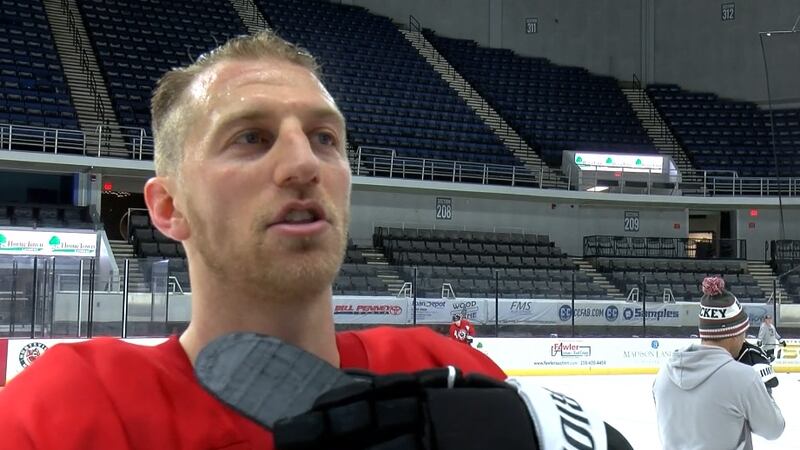 Published: Jun. 29, 2023 at 11:52 AM CDT
HUNTSVILLE, Ala. (WAFF) - Sy Nutkevitch is calling it a career. After 7 seasons with the Huntsville Havoc, he announced his retirement on Thursday morning.
Nutkevitch holds the team records in goals (115), assists (256) and points (371). The next closest player in the record books is James Patterson, nearly 100 points behind.
Nutkevitch was a key part in the Havoc's back-to-back championships in 2018 and 2019.
In a press release from the team, Nutkevitch reflected on his career. "Wearing the Havoc jersey has been an incredible journey," he said. "I want to thank the organization, my teammates, and, most importantly, the fans who have supported me throughout the years. It's been an honor to represent this city and be part of the Huntsville hockey family."
Havoc head coach and former teammate Stuart Stefan praised Nutkevitch's contributions saying "Sy has made a tremendous impact on our organization. He has been an exceptional leader, role model, and mentor to our younger players. He's worked so hard to play at such a high level for so long. From playing with him to coaching him, it's been such a pleasure to come to the rink every day with him."
The 2023-2024 season will be a time of transition for the Havoc. In addition to Nutkevitch, long time captain Tyler Piacentini also announced his retirement. Longtime coach Glenn Detulleo was promoted to a new position in the team's front office and assistant coach Stuart Steffan takes over the head coaching job.
The Havoc will begin their 20th season on Friday, October 20th in Birmingham. The first home game at the VBC is Friday, October 27th.
Click Here to Subscribe on YouTube: Watch the latest WAFF 48 news, sports & weather videos on our YouTube channel!
Copyright 2023 WAFF. All rights reserved.