Hydrofest cut short due to weather
Corey Peabody wins Southern Cup based off points from the weekend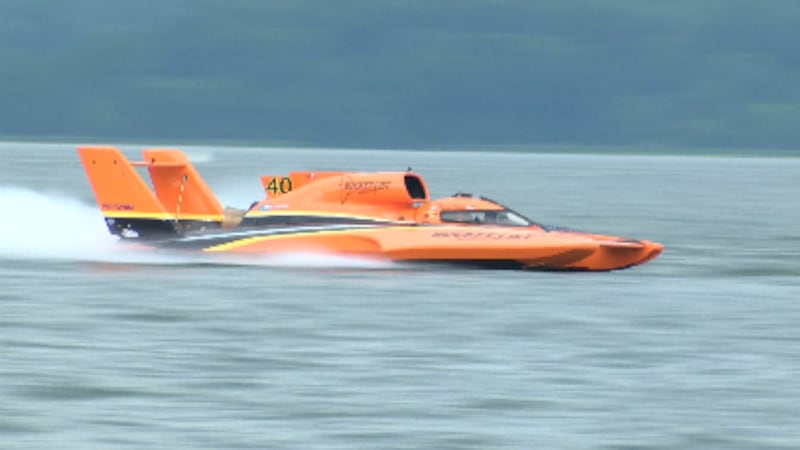 Published: Jun. 25, 2023 at 10:54 PM CDT
HUNTSVILLE, Ala. (WAFF) - The 2023 Guntersville Lake Hydrofest was ultimately cut short due to a severe thunderstorm warning in Marshall County, but Corey Peabody was declared the Southern Cup winner based off his previous three heat wins.
During the final heat, Andrew Tate in the Miss Goodman Real Estate flipped and landed upside down on the first turn on lap one. No injuries were sustained. The re-run was called, meaning that the winner was not decided on the water. Peabody, piloting the U-9 Beacon Plumbing, won the Southern Cup last year, and his team, Strong Racing, has won the last three.
"Everybody wanted to see if Corey Peabody was going to be able to do it. No one was able to solve the Peabody puzzle all weekend," H1 Unlimited Announcer, Brad Luce, said.
Even though Hydrofest ended sooner than anticipated, it was a record-setting weekend on the South's fastest water. During Saturday's qualifying, Dustin Echols piloted the Bucket List Racing hydroplane to a qualifying speed of 171 mph. That's the fifth-highest qualifying mark in the history of the sport and the highest in 20 years since fuel restrictions were put into place. Six of the eight boats qualified over 160 miles per hour.
Luce encouraged fans to come back out next year, in hopes of seeing a complete Hydrofest weekend.
Click Here to Subscribe on YouTube: Watch the latest WAFF 48 news, sports & weather videos on our YouTube channel!
Copyright 2023 WAFF. All rights reserved.