Strong To Severe Storms Possible Early and Late Sunday
First Alert Forecast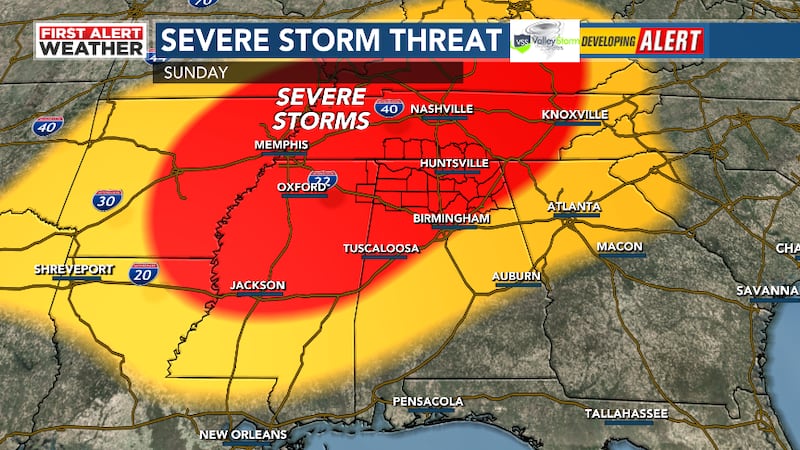 Published: Jun. 24, 2023 at 6:48 PM CDT
HUNTSVILLE, Ala. (WAFF) -We have a Developing 48 First Alert out for Sunday. At this time we are expecting two rounds of strong to severe storms to happen Sunday. The morning round of storms is expected between 8am and 11am. We are forecasting strong gusty winds up to 50 mph, very heavy rain and intense lightning along with some smaller hail with the morning round. Much of the afternoon will just be hot and muggy before the next round of storms moves into NW Alabama around 7pm. This line will most likely be stronger than the morning round. Larger hail and winds up to 65mph will be possible. The worst of the weather will likely happen from I-65 to the west as the line of storms appears to want to take a southeast track. Stay weather alert as we continue to monitor the storm threats. Be prepared to seek shelter indoors if storms approach your area Sunday. Stay tuned to WAFF and our Weather Apps along with digital and social media. Drier weather will move in early next week with highs in the 90s.
Click Here to Subscribe on YouTube: Watch the latest WAFF 48 news, sports & weather videos on our YouTube channel!
Copyright 2023 WAFF. All rights reserved.