Strong Storms Possible Through the Early Evening
First Alert Weather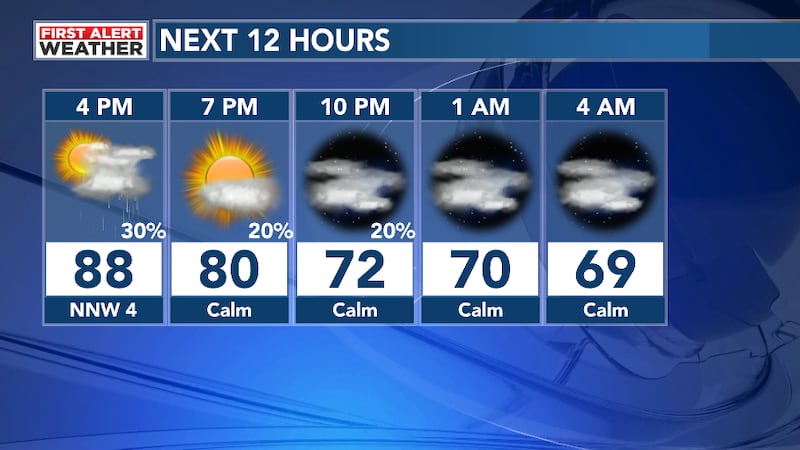 Published: May. 15, 2023 at 3:37 PM CDT
A mix of sun and clouds will be expected through the afternoon with high humidity and high temperatures approaching 90 degrees. Isolated to widely scattered thunderstorms will develop into the afternoon and evening hours with some being stronger in nature. Heavy rain and gusty winds will be possible, but things should calm down overnight with partly cloudy skies and lows in the upper 60s. Areas of patchy fog will develop before daybreak Tuesday.
Tuesday will also be hot and humid with highs in the middle to upper 80s, and winds will be breezy from the southwest. A cold front will move across the Tennessee Valley on Tuesday afternoon and will bring a chance of seeing some strong to severe thunderstorms. Any storms that do develop have the potential of producing locally heavy rainfall, frequent lightning, gusty winds and hail. Storms should wrap up into Tuesday evening with slightly cooler lows in the low to middle 60s.
Behind the cold front, temperatures will be a bit more seasonal in the upper 70s to low 80s for Wednesday afternoon with less humidity. Isolated to scattered showers and storms will be expected into Thursday and Friday with highs staying near average in the upper 70s to lower 80s.
Click Here to Subscribe on YouTube: Watch the latest WAFF 48 news, sports & weather videos on our YouTube channel!
Copyright 2023 WAFF. All rights reserved.