Scottsboro sweeps in Class 5A at 98th AHSAA State Track Championships
Madison Academy boys, Brooks girls also return to North Alabama state champions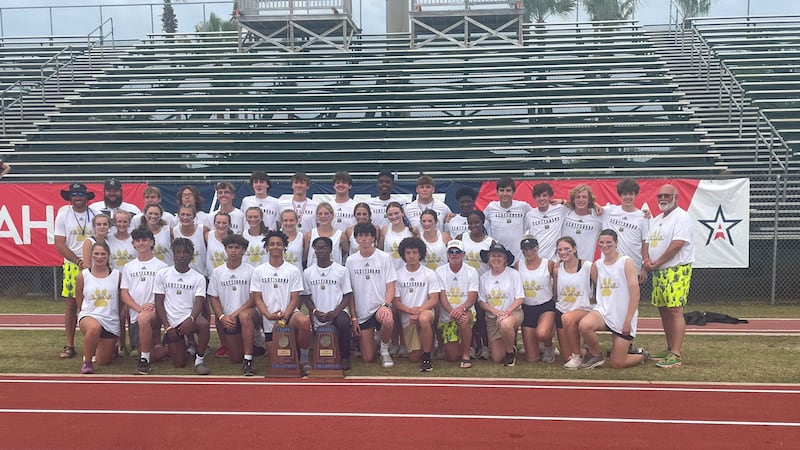 Published: May. 8, 2023 at 5:58 PM CDT
HUNTSVILLE, Ala. (WAFF) - Scottsboro swept the Class 5A boys' and girls' state championships Saturday as the 98th AHSAA State Outdoor Track and Field Championships for Classes 4A, 5A, 6A and 7A concluded at the Gulf Shores Sportsplex.
Scottboro's boys took home the Blue Map for the second straight season, having won in 6A last year. For the Scottsboro girls, it is the first outdoor track state title since 2019. The championship sweeps by Hoover and Scottsboro highlighted Day 3 of the 2023 AHSAA State Outdoor Track and Field Championships for Classes 4A-7A.
Another state champion crowned Saturday was Brooks in 4A girls. Saturday's championship marked their third consecutive state title.
Bob Jones' Jordan Urrutia had the day's fastest 200-meter time at 21.51 seconds winning in Class 7A. In 5A, Scottsboro's Emma Bradford won the 800 meters in 2:23.00, adding to the 1,600- and 3,200-meter titles she won earlier in the week. Priceville's Adam Taylor set a new Class 4A state meet record and won the boys' 800-meter title, clocking 1:55.04 to beat Munford's Dakota Frank by about two seconds. The old record of 1:55.12 was set in 2018 by Northside's Tanner King. Taylor also won individual 800- and 1,600-meter titles during the meet. In field events, Bob Jones' Kaitlyn Ford won in the Class 7A girls' high jump, setting a new state-meet record of 5 feet, 8 inches.
TEAM SCORES:
BOYS
Class 4A: Anniston 81, Priceville 54, Montgomery Academy 48, Brooks 40, Handley 40.
Class 5A: Scottsboro 104, John Carroll Catholic 43.3, Demopolis 43.3, Southside-Gadsden 43, Arab 42.
Class 6A: Homewood 88, St. Paul's Episcopal 86, Northridge 59, UMS-Wright 50, Clay-Chalkville 42.04.
Class 7A: Hoover 146.5, Vestavia Hills 89.5, Hewitt-Trussville 54, Huntsville 54, Auburn 51.
GIRLS
Class 4A: Brooks 87.5, Bayside Academy 58.5, Montgomery Academy 49, Cherokee County 39, White Plains 35.
Class 5A: Scottsboro 113, Beauregard 60, Arab 59.5, Wenonah 48.5, Lawrence County 46.
Class 6A: Mountain Brook 94, Northridge 76, St. Paul's Episcopal 69.5, Homewood 66.5, Saraland 65.
Class 7A: Hoover 125, Chelsea 79, Hewitt-Trussville 71, Auburn 69, Foley 49.
Class 1A/2A/3A State Track and Field Championships took place at Cullman High School's Woodard Stadium. The Madison Academy Mustangs won the boys' 3A crown with 58 points, thanks in part to a strong finish in the 4x400-meter relay – the final race of the day. Madison Academy, coached by Shannon Dorsey, picked up 10 points by winning the 4x400 with juniors Caleb Williams and Jackson Reece and sophomores Joshua Williams and J.R. Howard clocking 3:32.01 to win the relay and the state crown.
Click Here to Subscribe on YouTube: Watch the latest WAFF 48 news, sports & weather videos on our YouTube channel!
Copyright 2023 WAFF. All rights reserved.