Huntsville City Council to consider plan for 6 new Food City grocery stores
Published: Apr. 26, 2023 at 2:48 PM CDT
HUNTSVILLE, Ala. (WAFF) - Huntsville City Councilors will discuss a new resolution on Thursday proposing six new grocery stores around the Huntsville area.
In the resolution, the City of Huntsville states all Plan I proposed locations include areas suitable for substantial residential and commercial development. See the six locations in the below map: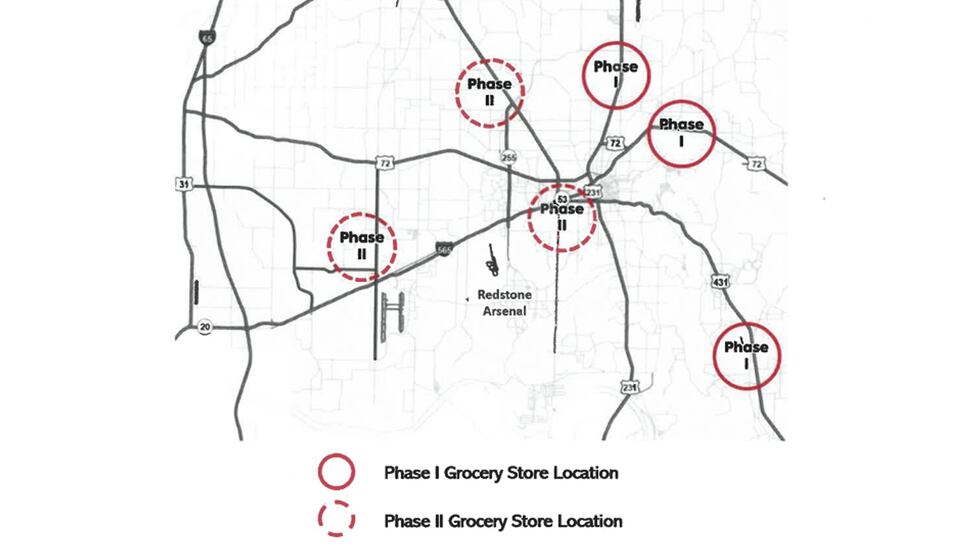 The proposed agreement includes the City and Marathon Realty Corporation. The company plans to develop, own and operate each of these six stores under the Food City brand. Marathon intends to employ over 200 employees at each new location, according to the proposed resolution.
Phase I of the plan is projected to be completed within 36 months.
An investment of approximately $15M will be made in the Huntsville area in connection to the development of each store. That investment grows to nearly $90M when including real estate, furnishing, fixtures and equipment at each location as well.
Marathon states in the resolution that financial assistance will be needed from the City of Huntsville to develop all six stores. This assistance is needed due to "increasing costs of construction materials, labor shortages, and supply chain delays, along with rising interest rates." The resolution goes on to state that the City will agree to make certain payments to Marathon out of a portion of the net proceeds received from non-educational sales taxes collected and from use taxes collected on personal property sales generated from the stores.
Councilman Bill Kling says he plans to vote for the measure, but he says Food City missed a golden opportunity not choosing a location near the Crossroads shopping center off of Bob Wallace.
"The Foundry, Campus 805 is just a couple blocks away, Lowe Mill is a few blocks to the east, Merrimack, all of these are great growing areas. Holiday homes is located nearby a largely populated area," Kling said. "I think this would've been a phenomenally great location if not for this brand, then perhaps another brand will come in that area."
As part of the deal, the stores would receive tax breaks and cash rebates of $1.5 million per store if completed on time.
The City Council will discuss the full resolution at its next meeting on April 27.
Click Here to Subscribe on YouTube: Watch the latest WAFF 48 news, sports & weather videos on our YouTube channel!
Copyright 2023 WAFF. All rights reserved.