Mainly dry through the evening, showers early Wednesday morning commute
First Alert Weather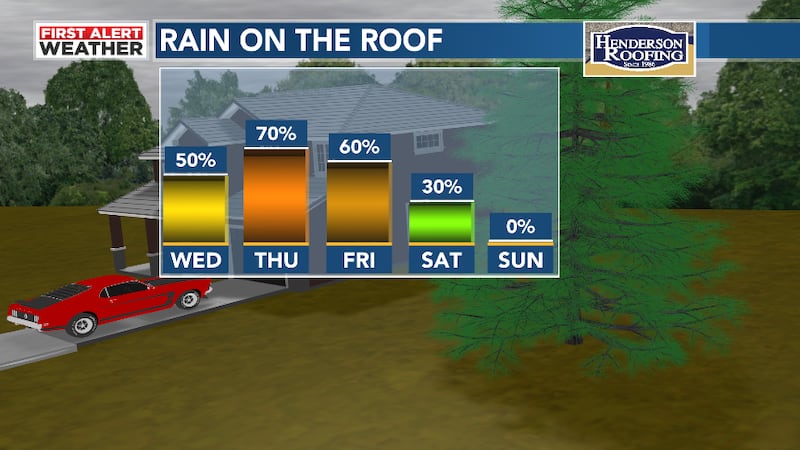 Published: Apr. 25, 2023 at 1:27 PM CDT
Partly to mostly cloudy skies will stay with us through the day with a light east-northeast breeze between three to seven miles per hour. Highs late this afternoon are running a few degrees warmer in the middle 60s to lower 70s.
Cloud cover will quickly increase by late evening and overnight with lows staying more mild in the upper 40s to lower 50s. An isolated or stray shower will be possible through the evening hours, but our next big batch of rain likely won't move in until after midnight. Expect scattered rain showers for your morning commute Wednesday.
Things will get more unsettled for the Wednesday through Friday period with increasing chances for rain showers and isolated storms. Wednesday looks to be mostly cloudy and cool with highs staying in the middle 60s.
We'll likely dry out for the most part through the afternoon and into the evening hours. However, Thursday will bring an additional round of more widespread rain potential as well as the threat for a few isolated thunderstorms.
Some storms on Thursday have the potential to be stronger with locally heavy rainfall, frequent lightning and gusty winds. The best chance for stronger storms will be for areas mainly south of the Tennessee River.
Yet again, rainfall looks likely for parts of the day on Friday with highs near 70 degrees. Rainfall totals for this three-day stretch could exceed one inch for the majority of locations. By the weekend, rain chances look to be more isolated to widely scattered with highs on Saturday and Sunday staying in the middle 60s to lower 70s. Next week is trending drier but still below average with highs staying in the 60s to lower 70s.
Click Here to Subscribe on YouTube: Watch the latest WAFF 48 news, sports & weather videos on our YouTube channel!
Copyright 2023 WAFF. All rights reserved.