Trash Pandas throw no-hitter, lose 7-5 in wild game vs. Chattanooga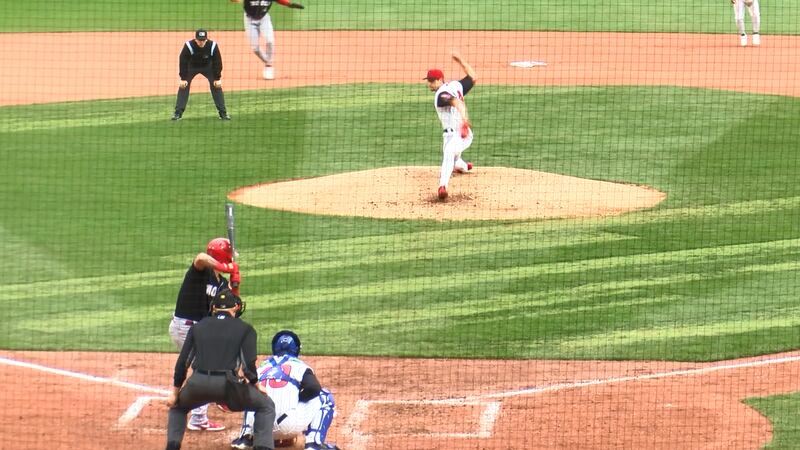 Published: Apr. 8, 2023 at 8:39 PM CDT
|
Updated: Apr. 9, 2023 at 8:45 AM CDT
MADISON, Ala. (WAFF) - The Rocket City Trash Pandas accomplished something absolutely incredible Saturday night at Toyota Field. But, it's undoubtedly something they'd want to forget.
The Pandas managed to give up no hits to the Chattanooga Lookouts, but still lost the game 7-5, something that seems impossible.
The game was the first half of a doubleheader because Friday's game was rained out. Under league rules, doubleheader games are seven innings rather than nine.
Heading in to the top of the seventh inning, Rocket City had a comfortable 3-0 lead and had given up no hits. The first two batters of the inning were walked. The third batter popped out to second base. The next batter was also walked. The fifth batter of the inning was struck out.
Now with Chattanooga down to its final out with the bases loaded and the Trash Pandas up three runs, the game started to get crazy.
Jacob Hurtubise was walked to bring in a run and put the Lookouts on the board. Jose Torres reached on a fielding error that emptied the bases. Torres stopped at second base. Because it was an error, this does not count as a hit. 4-3 Chattanooga.
The next two Lookout batters are hit by pitches, loading the bases. With the bases loaded, Rece Hinds is hit by a pitch, Torres scores. 5-3 Chattanooga, bases still loaded.
Allan Cerda was walked on just four pitches, scoring another run for Chattanooga. Then a wild pitch scored the final Chattanooga run of the game, 7-3.
Nick Quintana was hit by a pitch, loading the bases again. He was the fourth batter hit by a pitch this inning. To end the top of the seventh inning, Ilvin Fernandez struck out.
seven runs on no hits, one error, one wild pitch, six walks and four batters hit by a pitch.
The Trash Pandas managed to score two runs in the bottom of the seventh, but the rally ended there. Final score, 7-5.
Click here to check out the carnage on the official box score.
The Pandas did rally and win the second game of the doubleheader by a 3-0 score. The Lookouts managed to get one hit in that game.
Click Here to Subscribe on YouTube: Watch the latest WAFF 48 news, sports & weather videos on our YouTube channel!
Copyright 2023 WAFF. All rights reserved.